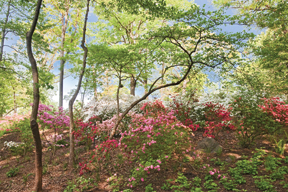 Azalea Garden
Grand Opening
May 7 & 8 and May 14 & 15
The Azalea Garden is a project of Mr. and Mrs. Richard L. Chilton, Jr.
Two festival weekends usher in the Grand Opening of the new Azalea Garden. This 11-acre site offers an encyclopedic collection of the world's azaleas planted along a broad hillside punctuated by rock outcrops and shaded by mature native trees. Nearly 3,000 azaleas and rhododendrons expand the core collection established in the 1930s. More than 70,000 plants, including trees and shrubs, woodland perennials, and bulbs, have been planted throughout the garden to provide beauty and interest from early spring through fall.
Spring Season sponsored by

---
FESTIVAL WEEKENDS
Azalea Garden Party
May 7 & 8, 12–6 p.m.
Treat yourself to some old-fashioned fun. Play lawn games such as croquet, fly a kite, and sip lemonade in the shade amid the blooming Azalea Garden. Kids can don Victorian-era costumes, take pictures, and make cards, just in time for Mother's Day. Stroll the newly created paths with a Garden Docent who can point out highlights of the collection. Picnic lunches and refreshments such as beer and wine will be available for purchase on both Saturday and Sunday.
Create and Capture the Beauty
May 14 & 15, 12–6 p.m.
A variety of experts will be on hand to help you create and capture the beauty of azaleas. Home Gardening Demonstrations will teach you how to grow and care for azaleas in a yard, on a balcony, or in an apartment. Garden instructors will show you how to capture the beauty of azaleas through photography, botanical illustration, and watercolor. Visit the plant sale at Shop in the Garden to find the right azalea for your home or garden.
---
CLASSES
All-American Azaleas
In the Watson Building
Saturday, May 14, 10 a.m.–1 p.m.
Non-Member $47/Member $42
Instructor: Jessica Arcate Schuler
There are 15 azalea species that are native to the U.S., 14 of which have distribution ranges in the eastern part of the country. Learn about these species as well as azalea hybrids well suited to northeastern climates and gardens. The class will meet indoors and then move to the new Azalea Garden.
To see more Azalea classes
---
MEMBERS DAY
Members have access to the exhibition and special programs before the public opening. Exclusive benefits also include:
Free parking with a valid Member ID
20% off purchases at Shop in the Garden
10% discount at both Cafes
Up to four half-price tickets for friends and family Guest passes will be accepted.
Membership information