Art in Nature Camp
Bring out the nature-loving artist in your child with this week-long camp! Through fun activities and nature explorations, this week-long camp encourages kids to find the connection between art and nature.
About
Children become artists in the Garden throughout this week-long camp. Embarking on daily nature walks with sketch notebooks at hand they are ready to find inspiration anywhere. They will gather garden materials to create art projects and work together on collaborative creations. Each day will be filled with outdoor explorations, hands-on activities, and time to create art.
Tentative Schedule
Day 1 – Finding Art in Nature
Camp kick-offs with kids finding artistic inspiration by taking a closer look at nature. Kids have exclusive access to the Everett Children's Adventure Garden to explore with their senses and find art in nature. Through games and prompts campers collect ideas for an afternoon of creation!
Day 2 – Lines and Color in Nature
Kids explore the dazzling array of colors, shapes and patterns found in the natural world. Campers express their creative abilities through observational drawings and mosaics made out of natural objects collected from the garden. A special visit to the LuEsther T. Mertz Library gets kids up close botanical illustrations from the garden's special collection.
Day 3 – Natural Sculptures
Mid-week will bring an exploration of three-dimensional art and the natural world. Kids will explore and investigate natural and artificial sculpture. Participants will design their own outdoor installation using natural objects to create public art for visitors to enjoy. Campers enjoy a nature walk with a guest artist to discover places that are ideal for their sculptures.
Day 4 – The Art of Medicinal Plants
Kids investigate the world of medicinal plants with a tour of the Enid A. Haupt Conservatory. Participants learn how plants relate to the body and art while crafting their own paints out of natural pigments for an afternoon of craft projects.
Day 5 – Gallery Opening
We will have a gallery opening so the kids can talk about their art with invited family and friends! Campers can lead their family through an art tour of the garden sharing the discoveries they made throughout the week.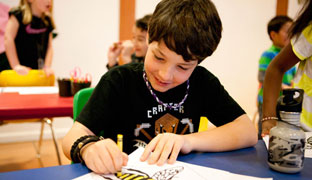 Dates and ages
All weeks listed offer concurrent programs for 5-7 year-olds and 8-10 year-olds.
July 8 - 12, 2013
July 29 - August 2, 2013
9:00 a.m. - 4:00 p.m.*
Registration Information
$250 non-members | $225 members

Call 718.817.8181 to Register
or E-mail the Registration Office

*Early drop-off (8 a.m.) and late pickup (5:30 p.m.) available. Fee: $15 per morning or afternoon, or $25 per day for both morning and afternoon.