Forest Adventure Camp
Help your kids rekindle a love of nature. Come explore the beauty and diversity of forests during this week-long camp at the Botanical Garden. Through forest hikes, nature explorations, and journaling, kids will experience the wonderful world of our native woodlands. They even get to climb a tree with the help of a professional arborist!
About
Children explore NYBG's native forest and compare it others found across the globe. Campers will discover the diversity of forest life through woodland walks, tree investigations, bird watching, outdoor games and more. Campers will also get to do some tree climbing with NYBG tree experts!
Tentative Schedule
Day 1 – Forest Fun
During the first day campers get ready for a week-long exploration of native and tropical forests. Kids make adventure backpacks, create field notebooks, explore with binoculars and microscopes, and play forest-related games.
Day 2 – Learn the Trees
Kids go on nature walks through the Garden's forest and get to know the trees that are common in their area. Kids make a herbarium press and collect tree leaves for their own collection. Using tree identification books kids become experts on the trees of the forest.
Day 3 – Hidden Forest Life
Mid-week, kids hone their perception and observation skills, with an exploration of the unseen world in a forest. Many creatures live in and under the leaf litter, logs, and rocks of the forest, and kids will search for the dazzling array of insects, mushrooms, and amphibians in the Garden's forest.
Day 4 – Visit the Tropics
On this day, kids explore the tropics in the heart of the Bronx! Participants get a tour of the amazing world inside the Garden's Enid A. Haupt Conservatory and learn about the products we use from tropical forests. Kids create their own tropical terrarium so that they can bring a little rainforest home with them!
Day 5 – Forest Adventure Party
What a week it's been! Come celebrate the achievements of your young arborist and see all they've learned. Campers spend the day prepping for the party by making forest inspired crafts and sharing the results of their experiment.
Stay later with your young camper and have them give you a tour of their favorite forest spots!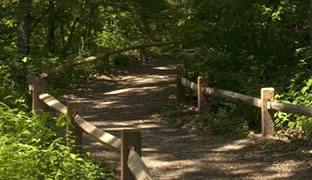 Dates and ages
All weeks listed offer concurrent programs for 5-7 year-olds and 8-10 year-olds.
July 22 - 26, 2013
August 12 - 16, 2013
9:00 a.m. - 4:00 p.m.*
Registration Information
$250 non-members | $225 members

Call 718.817.8181 to Register
or E-mail the Registration Office

*Early drop-off (8 a.m.) and late pickup (5:30 p.m.) available. Fee: $15 per morning or afternoon, or $25 per day for both morning and afternoon.