Wild Wetlands Camp
Have your kids ever wanted to get their feet wet and learn about the amazing world of marshes, ponds, and rivers? This camp allows children to act like scientists and explore these natural worlds.
About
Children will discover the diversity of our very own ponds, rivers, and wetlands at The New York Botanical Garden. Their week will be filled with wetland walks, scavenger hunts, crafts, science experiments, bird watching, and frog catching. Kids will get to put on waders and enter the pond to get their hands mucky for a first-hand experience of life in a wetland!
Get Ready For Camp!
We are excited for Adventure Campers to join us this summer for a week of fun wetlands discoveries! Every day will be packed with entertaining hands-on activities. Here are some things to keep in mind as you prepare for Wild Wetlands camp:
Be sure to pack a pair of water shoes or boots, or a second pair of sneakers in case feet get wet while exploring
Bring a hat, water bottle, and sunscreen for outdoor adventures
Pack two healthy snacks and a lunch—please do not pack food items containing nuts of any kind
A positive attitude! Adventure Camps provide each camper with a fun and safe space to meet new friends and explore new ideas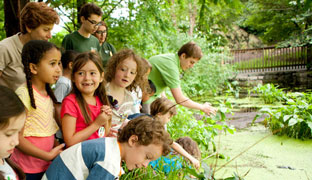 Dates and ages
All weeks listed offer concurrent programs for students entering grades K–2 and 3–5 in fall 2016.
July 25–29, 2016
August 22–26, 2016
9 a.m.–4 p.m.*
Registration Information
$300 Non-Members | $275 Members

Call 718.817.8181 to Register
or Click here

*Early drop-off (8 a.m.), late pickup (5 p.m.), and extended pickup (until 6 p.m.) available. Fee: $15 per morning or afternoon, and $30 for extended pickup. Pre-registration required. Late fees apply if children are picked up after their designated checkout time.