Edible Garden Cooking Series
April - October
Food and fun meet fresh and healthy at Edible Garden Cooking events for kids, families, and adults. Enjoy a variety of cooking demonstrations, tastings, and hands-on activities that promote the connections between gardening, cooking, and a healthy lifestyle. See Garden educators prepare seasonal treats harvested from Family Garden beds and using Whole Foods Market 365 Everyday Value™ pantry staples.
Supporting Sponsors: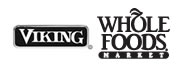 NYBG staff favorite recipes:
Broccoli with Grainy Mustard
Carrot Slaw with Basil
Roasted Tomato and Corn Rotini
Grape Juice Spritzer
Simple Strawberry Vinegar
Home Gardening Online:
Home Gardening Online is your one-stop resource for plant questions, gardening tips, expert advice, and much more.
Check out these recipes from our 2011 Whole Foods Market Seasonal Tastings:
August 3rd - Mango Pineapple Smoothie
August 10th – Grape Juice Smoothie
August 17th – Breakfast Strawberry Smoothie
August 24th – Banana Nice Cream Smoothie
August 31st – Pineapple Breeze Smoothie

September 7th – Skillet Granola
September 14th – Almond Butter Banana Wrap
September 21st – Baked Snack Mix
September 28th - Creamy Cucumber Dip
For more recipes pleasevisit www.wholefoodsmarket.com.