Spring Break 2012
April 7–15
School is out, and spring is in full session! Each day--including Monday, April 9--features hands-on fun to welcome the season: Plant in the Family Garden, make your own terrarium in the Adventure Garden, go on a scavenger hunt through the Conservatory, and finish up your week at a family concert. Admission included with All-Garden Pass.
Little Landscapes
Outdoor Nature Exploration in the Everett Children's Adventure Garden
Adventure Garden is open 10–6 p.m.; Guided activities end at 5:30 p.m.
The plant world comes alive in a big way at the Discovery Center. Take a step inside the world of plants and create your own terrarium to bring home. Use a microscope to take a closer look at some of the featured terrarium specimens such as moss, lichens, and rocks.
- Discover waking frogs, emerging turtles, and colorful spring blossoms
- Explore the little landscapes of a tropical rain forest, desert, and a temperate climate
- Make your own terrarium to bring home
- Make a field notebook to take on your adventure
- Borrow binoculars and watch for colorful birds along the Mitsubishi Wild Wetland Trail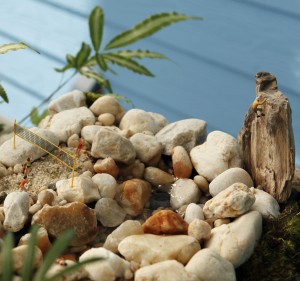 NEW TERRARIUM WORKSHOPS
Wednesday, April 11 and Thursday, April 12 at 1 and 3 p.m.
In this 75-minute workshop led by the creative visionaries from Twig Terrarium, families work together to make their own terrarium masterpiece to take home--complete with plants, rocks, moss, twigs, and tiny figurines. Inspiration for the workshops will come from two themes: fantasy (Wednesday, April 11), and adventure (Thursday, April 12). Each participant makes their own terrarium. All-Garden Pass access is included in each workshop ticket. Space is limited, so please purchase your spot in advance.
Space is limited, so purchase tickets now: $25 Adult/$15 Child; $20 Member/$10 Member Child
Wake Up, Garden!
Dig! Plant! Grow! Hands-on Gardening Activities at the Ruth Rea Howell Family Garden
Family Garden is open 1:30–6 p.m.; Guided activities end at 5:30 p.m.
Help us get the garden off to a good start by sowing seeds, planting seedlings, spreading compost, and digging. Observe the rapid changes and new growth on the perennial trees, shrubs, and bulbs in our meadow and explore germination of annual seeds up close with microscopes and magnifiers.
Bronx Arts Ensemble Family Concert: Ferdinand the Bull
Ross Hall, Sunday, April 15 at 1 & 3 p.m.
Ferdinand the Bull, a gentle bull who prefers sitting in his field, smelling the wild flowers to fighting, is mistakenly chosen to face a matador after an unfortunate bee incident ... and that's just the beginning! The audience will be introduced to each instrument and join in the adventure!