Course Descriptions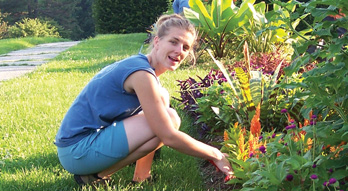 Designed by horticulturists and botanists, the academic courses introduce and explore the multi-faceted field of horticulture. Students receive training in plant morphology and horticultural techniques, will expand their knowledge of all types of plants and how to identify and manage diseases, pests and weeds. Communication classes help students prepare for their career, while landscape design classes look at both theory and practice.
- Botany
- Horticulture
- Landscape Design
- Communications & Business Management
- Personal Development
Botany
These courses encompass a broad range of topics, i.e., anatomy, morphology, physiology, systematics, ecology, evolution, and field studies.
Basic Science Review Workshop
Discuss essential biological concepts and practice hands-on laboratory skills such as working with dissecting and compound microscopes, and making wet-mount slides with fresh botanical materials.
Hours: 9 — BOT 314
Botany I: Basic Concepts
Learn about the basic plant body, from the cell to the main component parts, including roots, stems, leaves, flowers, and fruit. Use both dissecting and compound light microscopes to view plant parts. The fundamental chemistry for understanding how plants function is presented.
Hours: 20 — BOT 315
Botany II: Plant Physiology
The role of plant hormones in growth and development is discussed as well as plant movements, water transport through the plant body, and plant metabolism, including photosynthesis and respiration (anaerobic and aerobic). The basic chemistry needed to understand this material is presented in class.
Hours: 20 — BOT 316
Botany III: The Plant Kingdom
Survey the plant kingdom through the study of morphological, anatomical, and life cycle diversity of the major divisions. An introduction to the principles and mechanics of evolution and classification provides the framework for understanding how these divisions are defined. The fundamental nutrient cycles and ecological concepts are presented.
Hours: 24 — BOT 317
Morphology of Flowering Plants
Angiosperms are the dominant plants in most of the habitats of the world today. Through laboratory demonstrations and dissections, examine the morphology of flowers, fruits, and vegetative plant parts, and learn about the development of these structures.
Hours: 16 — BOT 431
Systematic Botany
Survey the major families of the angiosperms (flowering plants), the dominant group of plants on Earth today. Learn the characters and principles used to classify them, newly recognized higher order groupings of species, evolutionary trends in floral and vegetative structure, and recently reconstructed evolutionary histories (phylogenies) of flowering plants.
Hours: 21 — BOT 432
Horticulture
These courses are designed to increase and enhance the understanding of plant identification, culture, selection, and sustainable landscape management practices.
Top
Soil Science I: Physical Properties
Soil is the very foundation of sustainable horticulture and agriculture. This course focuses on the texture, structure, density, and color of different soils and the dynamic relationship that exists among soil, water, and plants. Learn irrigation and drainage techniques, and explore the importance of soil organic matter and microbiology in relationship to plant health and soil conservation.
Hours: 18 — HRT 301
Soil Science II: Chemistry and Nutrition
Learn how to feed the soil so it can feed your plants. Gain an understanding of the cornerstones of soil chemistry: pH and its effects on nutrient availability to plants and the ionic exchange capacities of soil. Macronutrient cycles in the soil will be studied with emphasis on the complex nitrogen cycle and its importance to environmental and horticultural sustainability. Explore the use of organic and inorganic fertilizers and composted soil amendments. Students will perform an analysis of their own soil sample in class. In addition, study commercial soil tests and plant tissue tests as important tools in monitoring plant nutrition and health.
Hours: 16 — HRT 302
Horticultural Techniques: Landscape Gardening
Learn the basic techniques and practical skills of landscape gardening. Topics include soil preparation, efficient water and fertilization practices, planting and transplanting, cultivation techniques, and maintenance for healthy plants.
Hours: 12 — HRT 311
Horticultural Techniques: Greenhouse Practices
This course emphasizes the practical skills required for growing plants in greenhouses. Topics include structures and equipment, soils and other growth media, irrigation and fertilization practices, potting and repotting, cultural techniques, and plant disorders.
Hours: 18 — HRT 312
Horticultural Techniques: Basic Horticultural Construction
Learn basic horticultural construction techniques such as installing posts and rails, mixing and using concrete, installing paving stones and path edging, building stone walls, carpentry, plumbing repairs, and painting.
Hours: 12 — HRT 314
Horticultural Techniques: Turf Equipment
This course will introduce students to the various equipment used in the maintenance of grounds, arboretum, and turf grass. Proper use, care, and safety will be discussed. Students will be able to operate various pieces of equipment, and maintenance techniques will be demonstrated.
Hours: 8 — HRT 315
Pruning Principles and Practices
This course combines class study and hands-on pruning, matching knowledge to practice. Topics include woody plant structure and physiology as they relate to pruning; correct pruning techniques and tools; pruning timing; and pruning as an integral part of plant health care. Pruning of trees and shrubs, conifers and broadleaves, and evergreen and deciduous plants is covered. Creation and maintenance of hedges is considered, along with authentic pollarding techniques.
Hours: 14 — HRT 321
Ornamental Woody Plants: Fall Trees and Shrubs
Explore the identification and landscape use of major groups of shade trees and shrubs grown for ornamental foliage and fruit. Major groups studied include Acer, Quercus, Viburnum, and other genera, which are particularly ornamental in autumn.
Hours: 12 — HRT 331
Ornamental Woody Plants: Broad-leaved Evergreens
Learn native and exotic broad-leaved evergreens; become familiar with their cultural requirements, identification features, and ornamental value. Learn how to incorporate this important group of plants into both naturalistic and formal landscape settings. Major plant groups studied include Ilex, Rhododendron, Buxus, and evergreen groundcovers.
Hours: 8 — HRT 332
Ornamental Woody Plants: Conifers
Learn the identification, classification, and landscape use of ornamental conifers. Major plant groups studied include Chamaecyparis, Picea, Pinus, and other genera that may be grown in the northeastern United States. Gain a working knowledge of the best species and cultivars of conifers for landscaping.
Hours: 12 — HRT 333
Ornamental Woody Plants: Spring Trees and Shrubs
Learn the identification, classification, and landscape use of spring-flowering trees and shrubs. Major plant groups include Magnolia, Malus, Prunus, Viburnum, and other genera, which are particularly ornamental in spring.
Hours: 12 — HRT 334
Grounds Management
Examine the most important factors in the management and maintenance of shrubs and small ornamental plants in residential or commercial settings, including planting and cultural practices. Using sustainable management methods, learn how, why, and when to prune; soil fertility options; how to restore old or overgrown plants; and effective winter protection techniques. Common insects, diseases, and physiological problems are discussed.
Hours: 12 — HRT 335
Ornamental Herbaceous Plants: Spring Perennials
Study the identifying characteristics, classification, and landscape uses of springblooming perennials. Learn the scientific and common names of approximately 60 plants, including Dicentra, Alchemilla, and Heuchera.
Hours: 9 — HRT 336
Ornamental Herbaceous Plants: Summer and Fall Perennials
Study the identifying characteristics, classification, and landscape uses of summer- and fall-blooming perennials. Learn the scientific and common names of approximately 60 plants, including Echinacea, Filipendula, and Helenium.
Hours: 9 — HRT 337
Ornamental Herbaceous Plants: Annuals
Become familiar with the identification, culture, and landscape use of plants that are commonly used as annuals. Review major groups of common annuals and more unusual types. Learn how to select low-maintenance plants. Topics include a review of the scientific names, common names, and identification of approximately 60 annuals.
Hours: 8 — HRT 341
Ornamental Herbaceous Plants: Bulbs
Study the biology, identification, and classification of ornamental bulbs. Learn about common and unusual spring-, summer-, and autumn-flowering bulbs.
Hours: 12 — HRT 342
Mathematics for Horticulturists
Review methods of calculating areas, application rates for fertilizers, and amounts of soil amendments in the first session, and analyze homework problems in the second session.
Hours: 6 — HRT 356
Preparation for Pesticide Applicator: Certification Examination
A 30-hour course is required by New York State before the Commercial Pesticide Applicator Certification Exam may be taken. Topics include handling, use, storage, and application of pesticides; safety and environmental considerations; and insect and disease problems. Several manuals are required.
Hours: 30 — HRT 357
Ornamental Tropical Plants
Learn the identification, classif ication, and culture of houseplants and greenhouse plants. Major plant groups to be studied include aroids, bromeliads, Marantaceae, and other ornamental tropicals grown indoors.
Hours: 14 — HRT 361
The Basics of IPM (Integrated Pest Management)
Study principles and practices of IPM, including problem identification, monitoring techniques, and pest management strategies. Students discuss applications of chemical, cultural, genetic, and biological controls to greenhouse crops, woody ornamentals, turf grass, and vegetables. Participate in scouting exercises where possible.
Hours: 12 — HRT 380
Insect Pests of Ornamental Plants
Survey the insects common to the northeastern United States that feed on woody and herbaceous plants as you learn to identify insects and the damage that they cause. Learn to judge the severity of an infestation and to select and implement control measures based on the insect's biology.
Hours: 15 — HRT 381
Plant Propagation I: Basic Principles
Learn the principles and techniques of plant propagation by seed and cuttings. Explore the basics of sexual and asexual propagation, with attention to fruit development, seedling production, root initiation, stem and leaf cuttings, and layering.
Hours: 18 — HRT 411
Plant Propagation II: Applications
Through lectures and laboratories, learn how to work with plants that are difficult to propagate by seed or cuttings. Subjects include advanced seed propagation and techniques of grafting, budding, and micropropagation.
Hours: 16 — HRT 412
Turf Management
With increasing pressure to eliminate or greatly reduce the use of synthetic fertilizers and pesticides, this course examines the concept of sustainable turf management. Through analyzing traditional turf maintenance practices, learn how to efficiently and effectively develop management programs that reduce adverse effects on the environment.
Hours: 14 — HRT 421
Tree Management
Learn the techniques of tree care, and gain an understanding of what makes a healthy tree. Topics include pruning, common tree problems, spraying, lightning protection, transplanting, fertilization of trees under stress, and root problems. Samples of tree problems, supplies, and tools are exhibited.
Hours: 14 — HRT 422
Winter Tree Identification
Learn the basic techniques of woody plant identification. Buds, bark, and growth habits on deciduous plants as well as interesting characteristics of conifers are taught. Specialized techniques and tools of the trade are discussed.
Hours: 12 — HRT 440
Entomology
Gain a basic understanding of the structure, growth, and development of insects. Learn about their harmful and beneficial effects, and how to control insects and arthropod forms. Learn to collect, identify, classify, and preserve a wide variety of insects.
Hours: 15 — HRT 480
Disease Identification and Management
Learn about common diseases of woody and herbaceous ornamentals caused by bacteria, fungi, nematodes, and viruses, and the cultural, biological, and chemical strategies for their control. Discuss diagnoses of plant problems, including identification of insect- and nutrient related symptoms.
Hours: 15 — HRT 481
Weed Identification and Management
Learn how to identify and manage the common turf and landscape weeds found in residential and commercial sites. A variety of weed control methods, including non-chemical approaches, are examined. Weed biology, biochemical pathways, herbicides and their application techniques, and equipment calibration and care are studied as are seasonal weed control programs.
Hours: 18 — HRT 482
Greenhouse Management
The greenhouse trade is a multibillion-dollar industry with an increasing need for personnel trained in sound business practices and advanced horticultural techniques, including environmentally friendly methods. This course will explore the economics of the industry as well as the principles and practices of commercial plant production. Students will be required to work on projects such as scheduling and energy conservation, and to develop a business plan.
Hours: 15 — HRT 511
Nursery Management
The fundamental principles and practices of managing a wholesale nursery include site selection, planning and layout, and growing nursery stock, both in the field and in containers. The course explores latest trends and best practices in the industry and includes a field trip to area nurseries.
Hours: 15 — HRT 512
Landscape Design
These courses include graphics, design, development, and construction of sustainable outdoor landscapes.
Top
Landscape Design History
Study theories and principles that have shaped the design of landscapes throughout history, from antiquity to the 21st century. Explore Eastern and Western garden traditions. Survey all types of gardens and landscapes, including corporate and public spaces.
Hours: 24 — LAN 301
Graphics I
Graphics are used to develop and communicate landscape design ideas. Learn and practice techniques of graphic expression, and learn how to organize and render landscape plans for optimal presentation to clients. Work with drawing materials and drafting equipment. A separate expenditure beyond tuition is necessary for drafting equipment.
Hours: 24 — LAN 311
Landscape Design I: Site Analysis and Schematic Design
Learn how to understand and analyze landscapes, and to formulate programmatic and functional requirements of a design project. Translate these into schematic design solutions. Take part in class discussions and critiques, and present projects. Extensive out-of-class design homework is required.
Hours: 24 — LAN 401
Communications & Business Management
These courses help students prepare for the horticulture profession by providing them with skills for public speaking, job acquisition, and business management. All COM courses are compulsory and are taught in workshop style.
Top
Introduction to Public Speaking
Effective public speaking is as crucial as knowing how to edge a display border. Both indicate that the speaker has a high level of professionalism. Learn the skills to become a good public speaker: how to research, write, and deliver. Students will deliver several presentations during the course.
Hours: 12 — COM 101
Career Preparation
How do I start? Where do I look? These are common questions of job seekers, whether they are seasoned horticulturists or looking for a career change. This course is geared specifically for the horticulture profession, from preparing resumes with key industry terms to targeting public gardens and dressing for the interview. This course prepares students to embark on their second-year internship search.
Hours: 8 — COM 102
Advanced Presentation Skills
This advanced level course focuses on how to create presentations for different purposes (sales pitch, visual presentation, and graduation speech), how to utilize audio-visual equipment and computer programs, and how to deliver speeches. Students prepare and deliver speeches of varying lengths.
Hours: 10 — COM 103
Introduction to Business Management
Through lectures and assigned readings, students learn different components of business management: staffing, marketing, operations, financial management, and customer/client development. Students prepare a marketing plan.
Hours: 12 — COM 104
Personal Development
Students may take up to 60 hours of elective courses of their choosing offered by the Garden. These courses are optional and are solely for students' personal enrichment.
Top