The Garden Rocks!
April 26-May 21, 2012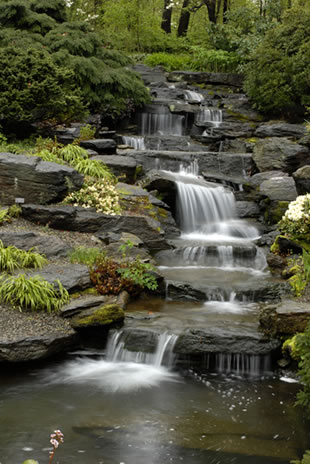 The New York Botanical Garden is competing as one of 40 New York City historic places in the National Trust for Historic Preservation's Partners in Preservation program. Vote for us, and we have the chance to win a grant to restore a piece of Nature's Showplace in New York City, the Rock Garden. The Garden rocks!
VOTE THROUGH THE PARTNERS IN PRESERVATION WEBSITE
Vote for the Rock Garden and help NYBG rock for the next 120 years!
This dramatic three-acre oasis was built by New Yorkers between 1932–1936 and is one of the most prominent ornamental landscapes to be constructed during the New Deal. Today, the Rock Garden is enjoyed by thousands of visitors each year, providing a rare escape from the modern stresses of every day life. The Rock Garden has been described as one of the most beautiful public rock gardens in the world. Come find out why!
If you are having trouble voting, please read this troubleshooting guide from Partners in Preservation:
- I tried to create a Partners in Preservation account but it didn't work.
If you choose to create a PIP account, an activation email will be sent to the email address provided. Click the link in the email to activate the account (it's how we know it's a real email address and a real person) and then log in and vote. You'll also get another email confirming that your account is active. This is only necessary the first time you vote. The email will come fromwebwork@nthp.org.
If you don't get an activation email, make sure you entered the correct email address and double-check for typos. Also check that your automatic spam filter will accept email from webwork@nthp.org. Some users of AOL have found the activation email in their junk mail folder.
________________________________
- I use AOL and I'm having trouble voting.
We are having a problem with AOL blocking these emails or putting them in junk mail folders. If you don't get an activation email, check that your automatic spam filter will accept email from webwork@nthp.org. While we work on the issue with AOL, the best recommendation we have is to either log in via Facebook or create an account with a non-AOL email.
________________________________
- I'm trying to log in using Facebook but it's not working.
Some voters have reported problems logging in with Facebook if they are using the browser Internet Explorer (IE). If you are using IE and want to log in using Facebook, we recommend making sure that you are already logged in to Facebook before trying to use Facebook to log in to vote.
Because this is a specific problem with the way IE and Facebook communicate, you may want to use Chrome or Firefox instead to log in with Facebook the first time. Or vote on your smartphone or tablet at http://partnersinpreservation.com/mobile.
________________________________
- Whom can I contact if I continue to have technical difficulties?
Please contact webwork@nthp.org.