Spring Gardening Open House Weekend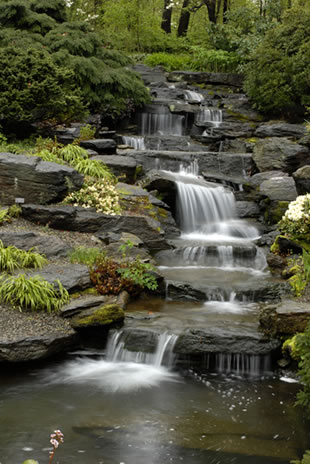 May 5-6, 2012 Get your tickets!
The New York Botanical Garden is competing as one of 40 New York City historic places in the National Trust for Historic Preservation's Partners in Preservation program. Vote for us, and we have the chance to win a grant to restore a piece of Nature's Showplace in New York City, the Rock Garden. The Garden rocks!
VOTE THROUGH THE PARTNERS IN PRESERVATION WEBSITE
Vote for the Rock Garden and help NYBG rock for the next 120 years!
This dramatic three-acre oasis was built by New Yorkers between 1932–1936 and is one of the most prominent ornamental landscapes to be constructed during the New Deal. Today, the Rock Garden is enjoyed by thousands of visitors each year, providing a rare escape from the modern stresses of every day life. The Rock Garden has been described as one of the most beautiful public rock gardens in the world. Come find out why!
Our expert docents will lead tours through the Azalea Garden, the Rock Garden, and the Rose Garden. A variety of Home Gardening Demonstrations will instruct on the care of azaleas, alpine flowers, and woodland plants. Shop the plant sale at Shop in the Garden to find the perfect azalea for your home or garden. Sample wines from The Naked Grape, 12 - 4 p.m. each afternoon.
- Rock Garden Guided Tours: 1:30 & 3:30 p.m.
- Gardening Demo: 3 p.m.
Azalea Garden Tours and Demonstrations
The Azalea Garden includes nearly a mile of woodland paths that meander through a collection of 3,000 azaleas and rhododendrons from around the world
- Azalea Garden Guided Tours: 12:30, 2:30, & 4:30 p.m.
- Curator Q&A: 12 - 4p.m.
- Home Gardening Demonstrations- Azaleas for Every Occasion: 12 & 2 p.m.
Explore the newly renovated landscape of the Azalea Garden. Learn how to use early spring color in your garden and get tips for growing these ericaceous beauties.
Rose Garden Tours
The Peggy Rockefeller Rose Garden is one of the world's most environmentally-friendly rose gardens. Oh, and it's beautiful, too!
- Rose Garden guided tours: 12:30 p.m.