Wild Medicine: Healing Plants Around the World, Featuring the Italian Renaissance Garden
May 18 - September 8, 2013





Discover how cultures around the world rely on plants for everything from medicine to cosmetics. Embark on a journey of the senses through a stunning re-creation of an Italian Renaissance garden and interactive stations highlighting the rejuvenating and healing powers of tea, cacao, and tropical juices. Explore a fascinating presentation of rare books and manuscripts known as herbals and enjoy a poetry walk, weekend Renaissance music & dance performances, hands-on science adventures for kids, and more!
Member Programs & Events
---
Members-Only Preview
Friday, May 17, 10 a.m. - 6 p.m.
Members receive the benefits below on Preview day:
- Free parking with valid Member ID
- 20% off purchases at Shop in the Garden
- 10% discount at both Cafes
- Up to four half-price tickets for friends and family
For Membership information, visit nybg.org/membership
Members-Only Preview Day Lecture: Depicting Nature: Flowers, Plants, and Gardens in Italian Renaissance Paintings
2 - 3 p.m.
Among the most significant challenges to the Renaissance artist was the accurate portrayal of nature, ever-present within paintings of the period. This lecture by Caroline A. Wamsler, Ph.D., will present works by renowned Renaissance artists such as Fra Angelico, Botticelli, and Leonardo da Vinci to consider the symbolic, religious, and mythological meanings that flowers, plants, and gardens communicated to the Renaissance viewer.
Reservations are no longer available for this lecture. For more information please call 718.817.8703 or e-mail membership@nybg.org.
Schedule for Members-Only Preview Day, May 17
Wild Medicine Film Screening
Ross Hall — 10:30 a.m., 11 a.m., 11:30 a.m., 2 & 4 p.m.
This introductory film narrated by Sigourney Weaver helps set the tone for your visit, celebrating plants through history and scientific discovery.
Roaming Wild Medicine Experts
Enid A. Haupt Conservatory — 11 a.m. - 2 pm.
Ask away! Roaming Garden Guides are available to answer your questions and highlight parts of the permanent collection and special exhibition, adding insight to your experience of Wild Medicine.
Gardening Demonstration: Herbal Healing Gardens
Garden Terrace Foyer — 11 a.m. - 12 p.m.
Gardens are sanctuaries. They not only provide us with a retreat from the world, but they also supply us with many soothing remedies. Join us to learn how to design your own little haven as well as grow healing herbs and fragrant plants that will calm your nerves.
Music & Dance of the Italian Renaissance
Ross Hall — 1 & 3 p.m.
Enjoy a rich repertoire of the music and dance of the Italian Renaissance period as presented by artists from Early Music New York and The New York Historical Dance Company. Performers wear costumes and play historical instruments to reproduce the sights and sounds of this period music, explaining the progression from the classic to the modern.
---
Adult All-Garden Pass tickets start at $20. See prices by date.
Four Seasons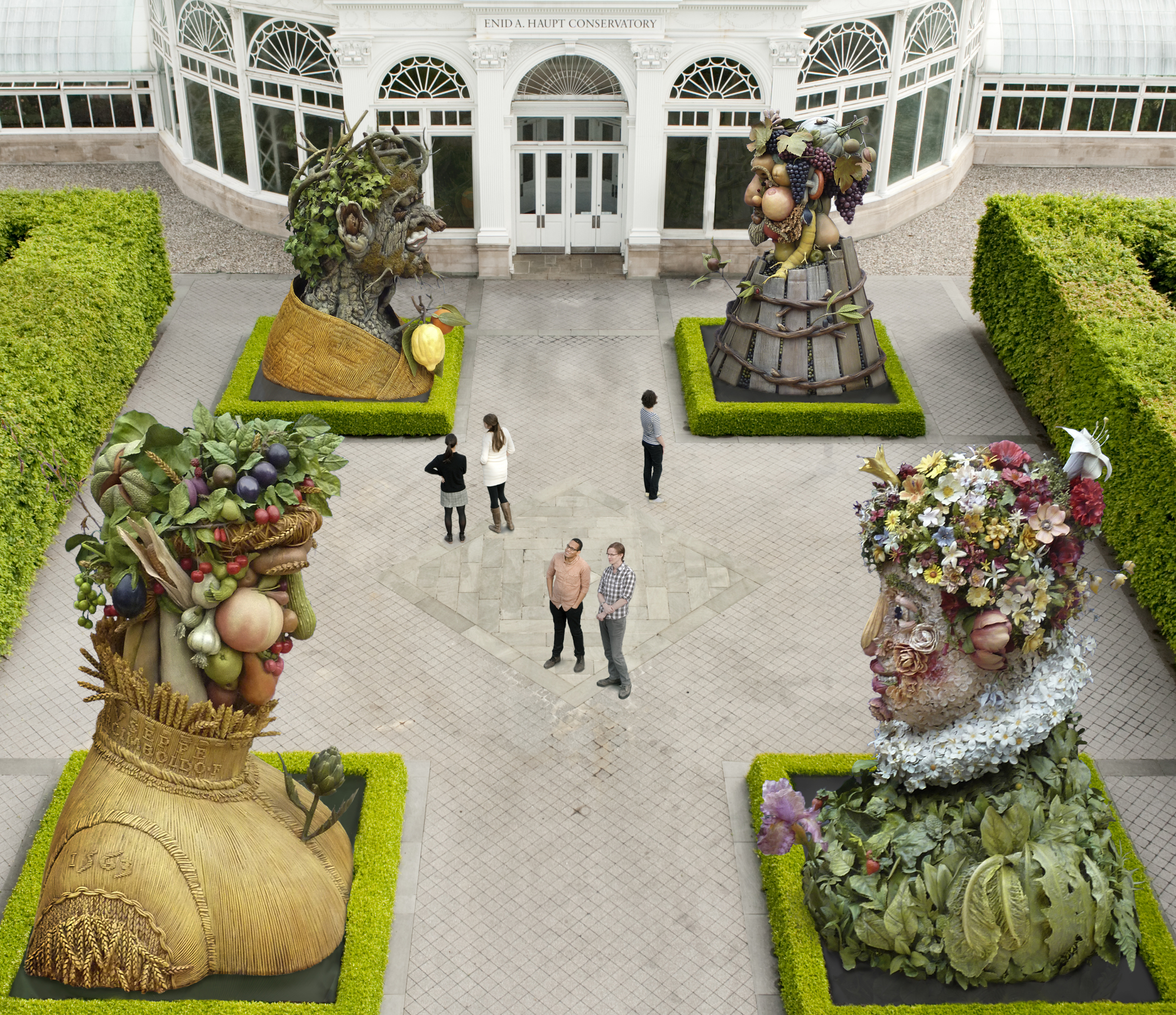 On display from May 18 through October 27, Four Seasons is an installation of four sculptures--each standing more than 15 feet high--by contemporary American artist Philip Haas. Encompassing Spring, Summer, Autumn, and Winter, the works are inspired by the 16th-century creations of Italian Renaissance painter Giuseppe Arcimboldo, accenting the Wild Medicine exhibition with a touch of artful, vivid history.