Facility Rentals at The New York Botanical Garden
Spaces to meet your need for a unique and stunning event.
The New York Botanical Garden offers a variety of spaces to meet your need for a unique and stunning event location. Within this grand 250-acre setting, you will find a sampling of some of the world's most beautiful natural terrain, including a cascading waterfall, 50 acres of forest, rolling hills, wetlands, and plant collections that include indoor rain forests and deserts. The New York Botanical Garden is one of New York City's premier destinations, whether you are looking to hold a corporate event in one of our gorgeous gardens or need the perfect location to hold a photo or film shoot.
Read about your selection bellow
Photo/Film Shoots
Described as an "oasis in the Bronx," the Garden's natural beauty creates the perfect location for most commercial photo and film shoots. And it's just 20 minutes from Manhattan. The Garden's outdoor wonders set the stage for breathtaking photos.
Fees for indoor and outdoor photo and film shoots are determined by senior Garden personnel based on dates, times, and accessibility of locations.
Film shoots in the Enid A. Haupt Conservatory are restricted to dates, times, and access as determined by the Associate Vice President for Special Events, Vice President of Security and Operations, and Director of the Conservatory.
The Garden hosts wedding photography from April until October at the entrance pavilion to the Benenson Ornamental Conifer Collection. Permits may be obtained by applying through our Special Events department. For more information on wedding photography at the Garden, please call 718.817.8710.
Gardens & Facilities
The New York Botanical Garden has some of the world's most beautiful spaces to use as a unique venue for your special event. Steven Starr Events, the Garden's exclusive caterer, provides full-service catering for any size gathering. In addition, the Garden's professional staff will assist you in creating a memorable occasion through the following opportunities:
Tram tours of the Garden's 250 acres
Intimate Garden Tour Guide-led walks through exquisite gardens
Tram shuttle service to event sites
With garden rentals starting at $10,000, the unique spaces offered at The New York Botanical Garden are extraordinary in landscape and exclusive in design.
Available Facilities:
Weddings
The New York Botanical Garden offers two unique venues for your special day. The Garden Terrace Room is a classic venue with hand painted murals and Palladium windows that overlooks the Ross Arboretum. The Lillian and Amy Goldman Stone Mill is nestled in Thain Family Forest. Guests will enjoy the festivities as the majestic Bronx River flows by.
To learn more about catering a wedding or event, please click here.
---
Download Calendar of Events
Fall 2013 - Winter 2014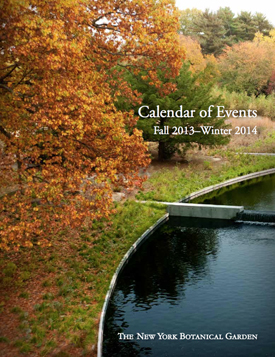 For more information, contact the office of Special Events and Facility Rental at 718.817.8885 or via e-mail.