Holiday Fun for the Whole Family

The Train Show is just the beginning of the holiday fun here at the Botanical Garden.
If buildings of a more edible nature are what you're after, be sure to check out Gingerbread Adventures in the Discovery Center. There, kids (and adults) will have the opportunity to learn about the plants that give gingerbread, that quintessential holiday treat, its distinctive flavor. Beautiful gingerbread houses will be on display—decorated by some of New York's most inventive pastry chefs, including Mark Tasker from Balthazar Bakery, Lauri DiTunno of Cake Alchemy, and Kate Sullivan of Cake Power—to provide inspiration for your own creation. Get a little practice decorating gingersnaps...and eating them, too!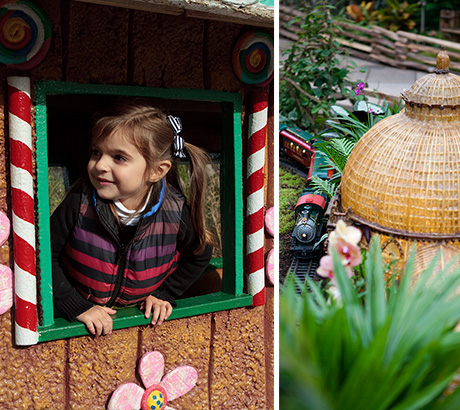 New this year, children of all ages will have the chance to help Tootle the Train™, the young steam engine who prefers to play in the flowers, learn how to ''stay on the rails no matter what!'' in his quest to become the grand Flyer from New York to Chicago. See an exclusive video of the Tootle premier performance here! The classic tale of The Little Engine That Could™ will be told through puppets, and after the New Year, Thomas the Tank Engine™ and friends will be at the Garden to help celebrate the arrival of 2011. (For a full schedule, click here.)
Outdoor activities abound at the Garden, too! Take a hike through the 50-acre Native Forest, the largest remaining plot of the aboriginal forest that once covered most of New York City. Keep your eyes peeled while traversing the Forest's trails. Wildlife abounds, and you just might catch a glimpse of an owl, a hawk, or one of the Bronx River beavers.
The Beneson Ornamental Conifers is home to dozens of trees that are as far from the standard Christmas tree as you can imagine. Some look like giant bonsai, some are yellow, others are nearly blue, some are very tall, and others are very small. The conifer collection is a beautiful peaceful place to contemplate the meaning of the season.
All this fun can be hungry work, so be sure to pause for a bite at one of the Garden's two beautiful cafes. There's hot chocolate for the kids—and more potent potables for the adults—along with delicious sandwiches, salads, warming soups, and special, seasonal entrées at both lunch and dinner.
For him, for her, for the kids, and for you, find the perfect gift for everyone on your list at Shop in the Garden. Need inspiration? Check out a few of our ''Favorite Things'' to find the perfect gift for the gardener, writer, artist, and reader. Still stumped? Membership to the Garden is a gift that can be enjoyed year-round. It also offers significant benefits during the Holiday Train Show.
To learn more about Membership, click here. To plan your visit, click here.