Through October 17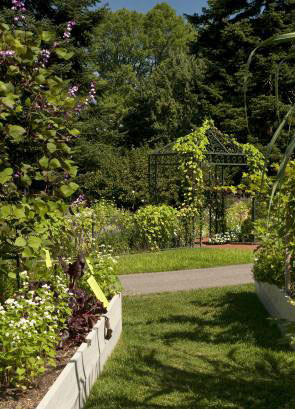 Which came first, the gardener or the cook?
What's the best way to get the freshest vegetables? Not with a trip to the grocery store, or even to the Greenmarket or a farm stand. The best way is to grow your own. 
True, it may not be the easiest way, but it can be the most gratifying. Longtime gardeners will tell you that nothing soothes the soul like a day spent with your hands in the dirt and the sun on your back.
But then, what do you do with all your hard-won vegetables, fruits, and herbs? Lucky for any gardener with a sore back or creaky knees, the tastiest, healthiest, and most nutritious ways to prepare super-fresh produce are also the easiest. But don't take our word for it.
Learn from the best as some of America's most famous celebrity chefs join the Garden--and you--in the Conservatory Kitchen to share their best recipes for cooking with the season's freshest produce.

October 16: Explore fast, fresh Italian cooking with uber-chef Mario Batali.
October 16: Delve into the timeless, delicious beauty of Greece with Kefi's Michael Psilakis.
October 17: Take in the sophisticated flavors of famed restaurateur Todd English
Haven't gotten your celebrity chef fix? Then explore The Edible Garden exhibition with an audio tour narrated by Mario Batali and Dan Barber, the head chef at the ultimate farm-to-table restaurant Blue Hill at Stone Barns.
New York's Blue Hill at Stone Barns and cult California restaurant The French Laundry are seperated by thousands of miles, but the two are joined in one aspect: The freshest produce is procured directly from their own gardens. It's never easy to emulate a celebrity chef's menu at home, but having access to vegetables, fruits, and herbs plucked directly from your own backyard (or in the case of many city dwellers, from your own back fire escape) goes a long way in helping the home cook put a fresh, delicious, and healthy meal on the table.

Preserve the bounty of the season with preserving expert Eugenia Bone's method for canning tomatoes.
Concord grapes are at their peak of perfumed perfection. Celebrate them by making your own grape juice to use in this sparkling spritzer.
The end of summer's heat is an ideal time to grow a second crop of spinach to be used in this beautiful salad with a creamy vinaigrette.
Pumpkins and squash can do more than just decorate your stoop. Use them in this autumnal, easy to make-ahead casserole.
Who says veggies can't be fun? Surprise your kids or your guests with these delicious kale chips (yes, we said kale!). Added bonus? Dinosaur kale, which is also known as lacinato kale is also beautiful and will grow well into winter.
See more about The Edible Garden.
To learn more, and to plan your visit, click here.
Please note: No guest passes will be accepted during the final Edible Garden weekend featuring celebrity chefs Mario Batali, Todd English and more. Members are welcome to attend for free. Seats under the Conservatory Kitchen tent are on a first come, first served basis.