What's New in Science
Garden Scientists to Work on a Broad Range of Cooperative Projects in Vietnam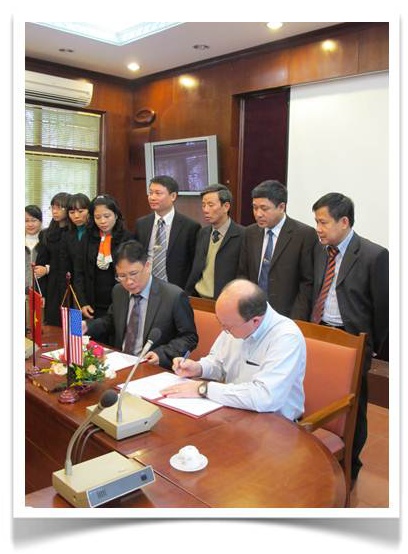 On the 8th of December, a Memorandum of Understanding signed between The New York Botanical Garden (NYBG) and the Vietnam Academy of Science and Technology (VAST). The agreement was signed by Prof. Chau Van Minh, President of VAST (on the left), and Dr. James Miller, Dean and Vice President for Botanical Science at NYBG (on the right).
Botanical Garden botanists have visited Vietnam regularly for about ten years, but in December 2010, Dr. James Miller, the Dean and Vice President for Science at the Garden, signed a Memorandum of Understanding (MOU) with the Vietnam Academy of Science and Technology (VAST) at an international meeting in Hanoi sponsored by the U.S. Department of State and the Government of Vietnam. Under the MOU, Vietnamese botanists will work with The New York Botanical Garden to discover, understand, conserve, and manage biological diversity in Vietnam and will conduct research to support sustainable management of useful plant species.
"Vietnam has exceptional biological diversity, many of the species are found nowhere else, and a significant percentage of them are endangered, said Dr. Miller. "Decades of war have impeded their study, so we know very little about Vietnam's rich botanical resources."
Cooperative projects have already challenged world views of Vietnam's rattans, which represent about one-seventh of the $2.5 billion international rattan industry. Since 2005 Garden scientist Dr. Andrew Henderson and Vietnamese colleagues have discovered an incredible 13 new species of rattan in Vietnam and clarified the scientific identities of already familiar rattans. Rattan is the flexible stem (cane) of the climbing palm Calamus and several related palms. Some of its most well-known uses are for furniture, basketry, and the long staves used in martial arts.
Many rattan canes are harvested from protected areas in the Central Truong Son Mountains. However, without available information on the actual abundance of rattan canes in these areas, there has been no way to assess their conservation status or develop sustainable management plans. Until now. Garden scientist Dr. Charles Peters and Vietnamese colleagues have just completed the largest inventory of natural rattan ever undertaken in the world. Nine hundred and sixty inventory transects, laid in six reserves in the Central Truong Son Mountains, have gathered data on the scientific identity, density, size structure, and rates of regeneration of 175,000 rattan canes as a first step in sustainably managing rattans in Vietnam.
Funding for the work of New York Botanical Garden scientists in Vietnam has been provided, in part, by Beneficia Foundation, Fulbright Scholars Program, International Palm Society, John D. and Catherine T. MacArthur Foundation, Merck & Co., Inc., National Geographic Society, and U.S. National Science Foundation.
Please also view Charles Peter's video about the Hukaung Valley Rattan Survey, seen below:
Can't see the the video? Try here