GEOGRAPHIC INFORMATION SYSTEMS (GIS) LABORATORY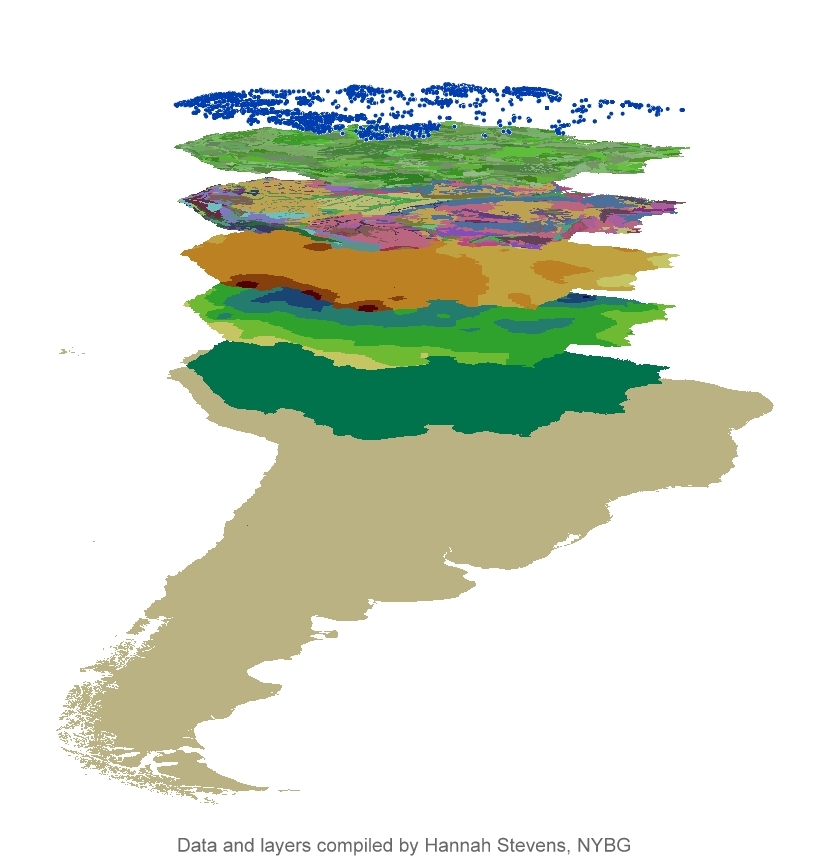 In a geographic information system, different layers of information can be collated to a single location on the Earth's surface.
While maps have been in use for millennia, geographic information systems now allow the combination of digital maps, computer graphics, and critical other sets of information for rigorous analyses of the Earth's surface. The Botanical Garden's GIS Laboratory constructs geographic information systems as analytical tools for Garden scientists, post-doctoral researchers, graduate students, and research associates.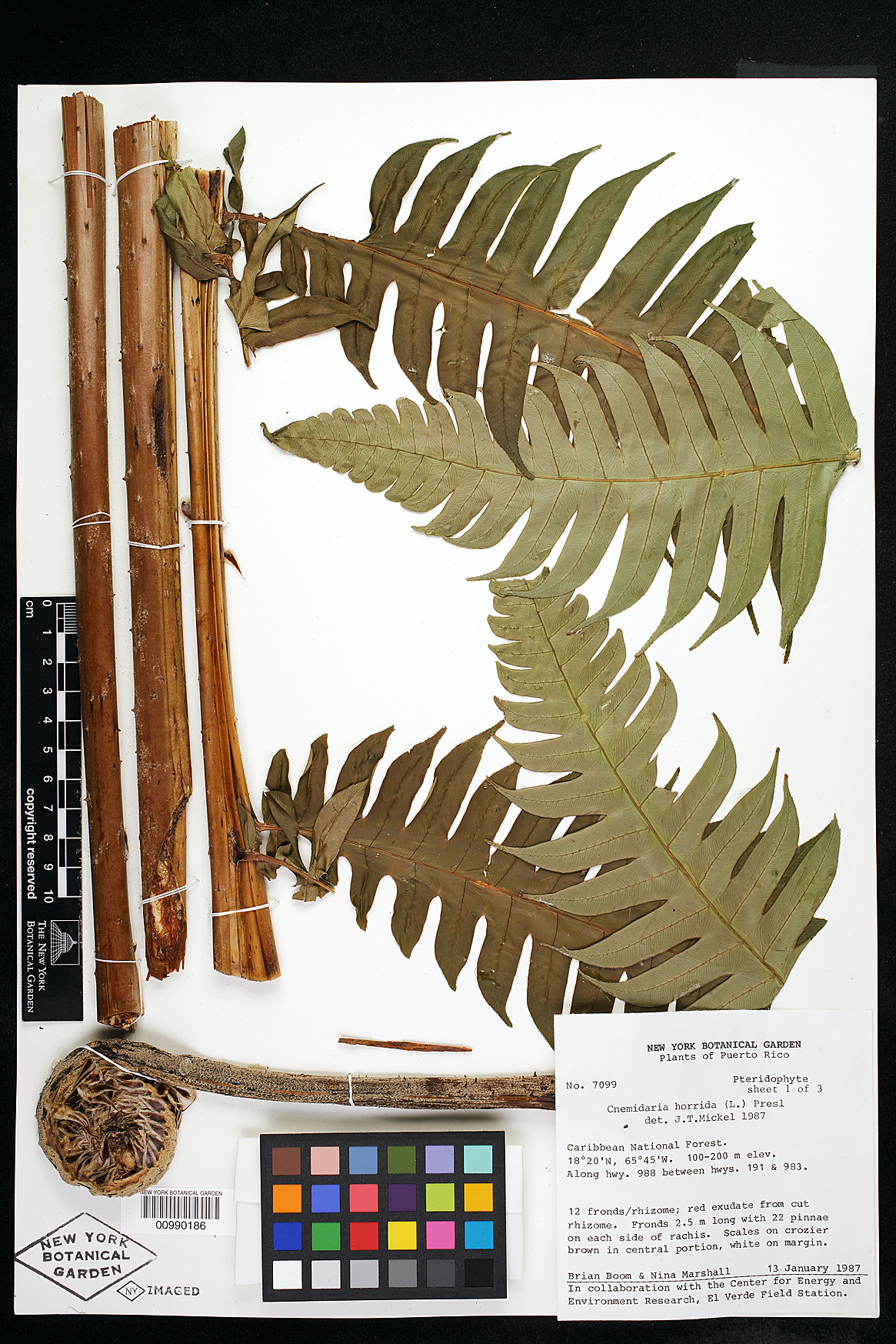 Herbarium specimen of the fern Cnemidaria horrida collected in Puerto Rico in 1987, with latitude and longitude of the collection site included on the label. Click to enlarge.
The William and Lynda Steere Herbarium and other herbaria around the world are the source of one of the most critical layers of information for GIS analysis carried out at the Garden- plant collections made in specific places at specific times. Provided specimen locality information has been georeferenced- that is, aligned with an Earth coordinate system such as latitude and longitude-herbarium specimen information can be modeled in GIS to help understand an individual plant species' range, population density, area of occupancy, or other attributes.
This GIS modeling of plant species information, in turn, provides compelling arguments for human decisions that involve a geographic component, such conservation of habitats for threatened species or best practices for protection of a species at risk of extinction throughout some or all of its range.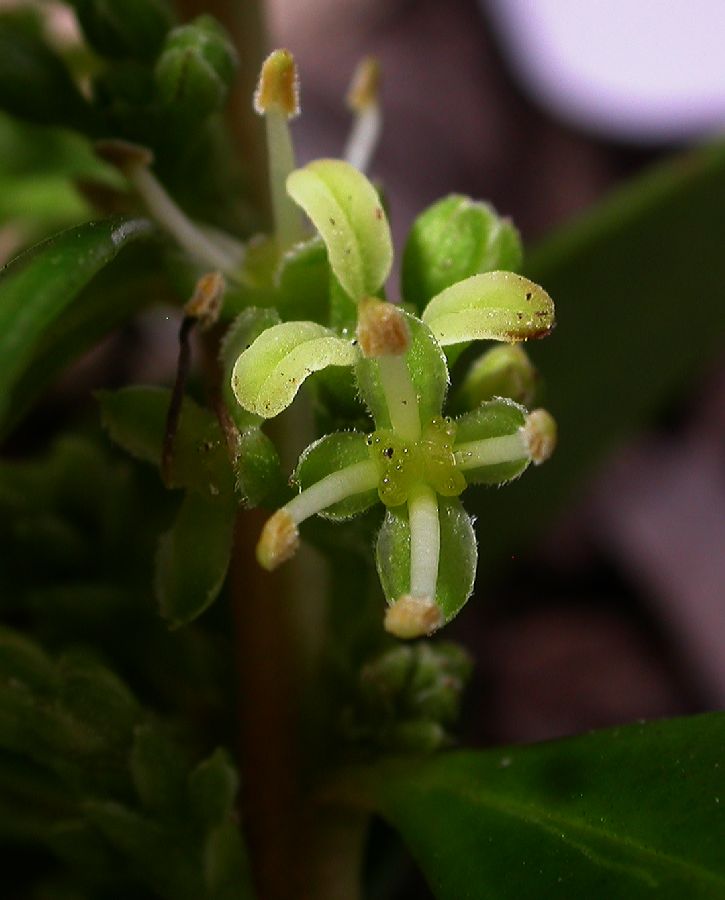 Buxus vahlii (Buxaceae) is known from only two small locations in Puerto Rico, encompassing less than 30 individuals. The extent of occurrence of many other Puerto Rican species is much less known.
Copyright L.H. Bailey Hortorium. Retrieved from www.plantsystematics.org
PLANTS AT RISK INITIATIVE
Target two of the Global Strategy for Plant Conservation (GSPC) calls for "An assessment of the conservation status of all known plant species, as far as possible, to guide conservation action." Working with partners from several Puerto Rican universities and conservation organizations, the Garden's Plants at Risk Initiative is using georeferenced herbarium specimen information modeled in GIS, to quickly identify which of the more than 2,000 native plant species in Puerto Rico are considered to be at risk of extinction based on their geographic range.
The novel approach calculates Extent of Occurrence (EOO) for species with at least three known localities. All species with an EOO above 20,000 km2 are considered "Not At Risk", and those that have EOO's less than 20,000 km2 are categorized as "At Risk."
A further stage of the Initiative will review the conservation status of all native plant species in the West Indies.
See Addressing target two of the Global Strategy for Plant Conservation by rapidly identifying plants at risk.
GIS FOR INDIVIDUAL RESEARCH PROJECTS
Individual research projects at the Garden are using the GIS Lab to analyze other rich sets of data in an environmental context. Quality maps produced by the GIS Lab also provide compelling visuals for scientific publications and presentations.
Selected Projects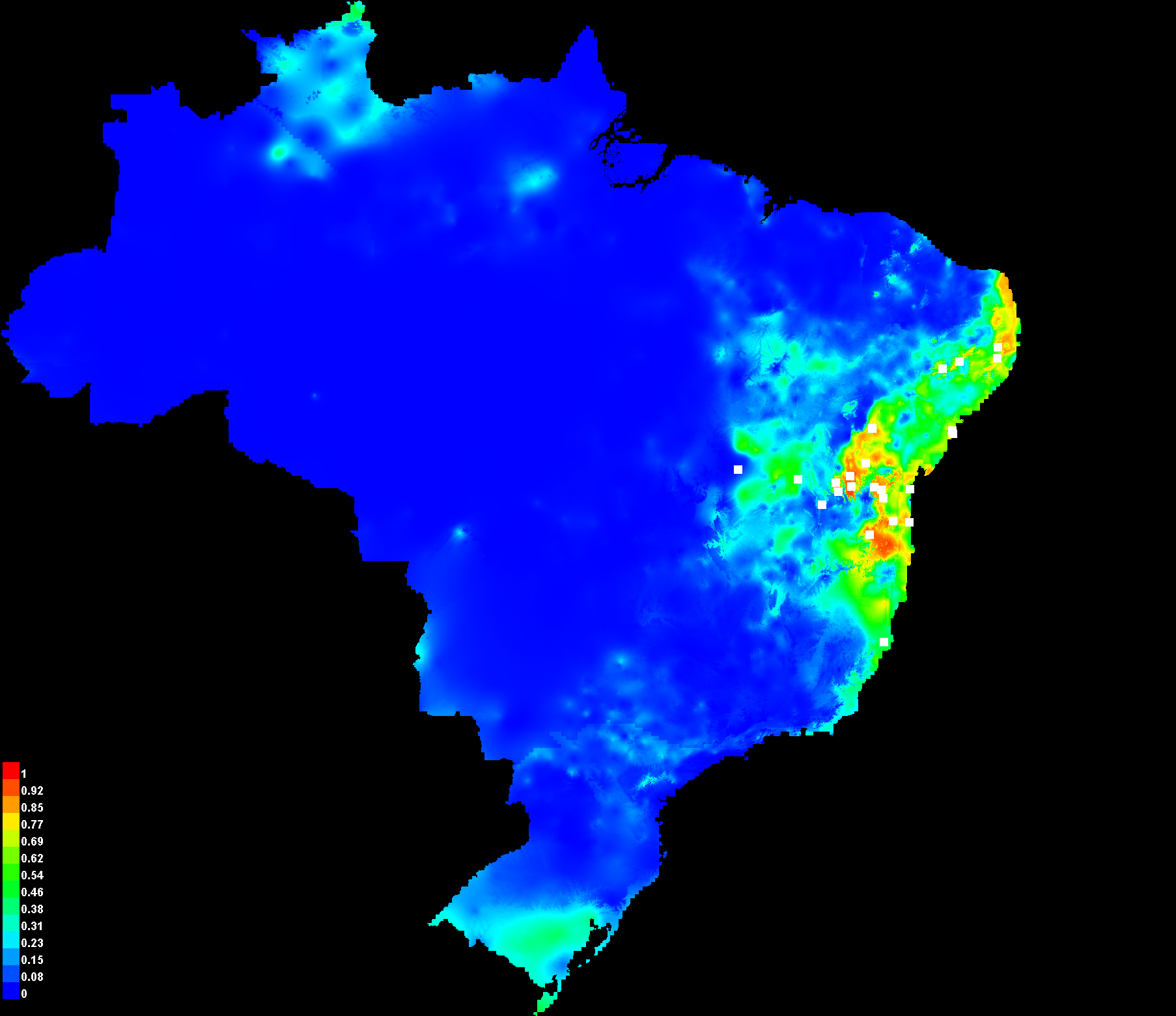 Distribution of Coutarea hexandra (Rubiaceae) in the Atlantic Coastal Forest of Brazil.
Conserving Biological Diversity in the Atlantic Coastal Forest of Northeastern Brazil. The Atlantic Coastal Forest includes several different forest types. Working with Garden scientists Dr. William Wayt Thomas and Dr. Wayne Law, David Cho and Jet Lem from the Bronx High School of Science are looking at plant species (in families Rubiaceae and Melastomataceae) which are thought to be restricted to a single forest type. Combining known locality parameters, relevant herbarium specimen information, and environmental conditions in the Atlantic Coastal Forest, Cho and Lem are creating geographic information systems which predict where-including other forest types-these species might occur.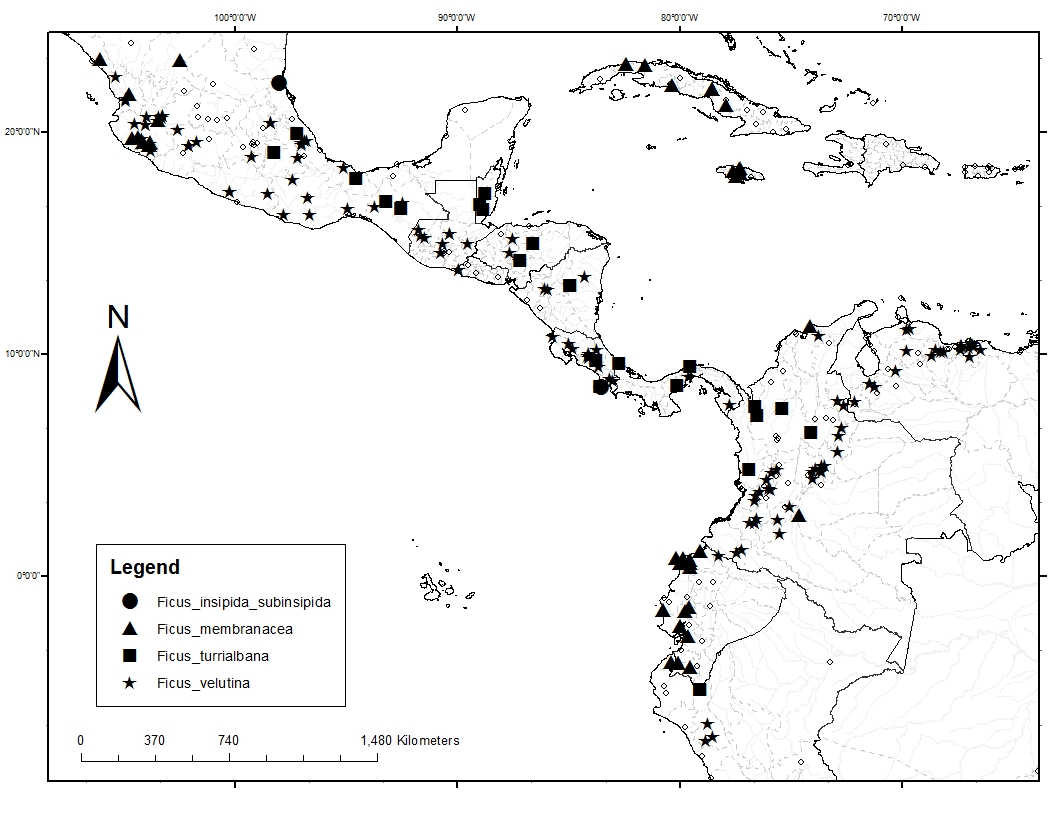 New World distributions of four different species of Ficus (Moraceae).
Ficus Distribution Maps. Using information from georeferenced herbarium specimens, graduate student Josh Simpson and Garden scientist Dr. William Wayt Thomas are using the GIS Lab to create distribution maps for 128 species of Ficus which occur throughout the New World from Mexico to Brazil. These maps will be published with the late Dr. Cornelis Berg's monograph for the genus Ficus (Moraceae) in Flora Neotropica.
GEOREFERENCING
Georeferencing is a process by which descriptive localities such as "Puerto Rico. Guánica. Bosque Estadal de Guánica, Caña Gorda" can be aligned with an Earth coordinate system such as latitude and longitude, and made mappable. Staff in the Garden's Steere Herbarium are engaged in georeferencing already deposited sets of specimens to add value to those specimens and make their associated information available for GIS and other analysis.
See Biogeomancer, Guide to Best Practices in Georeferencing
Selected Project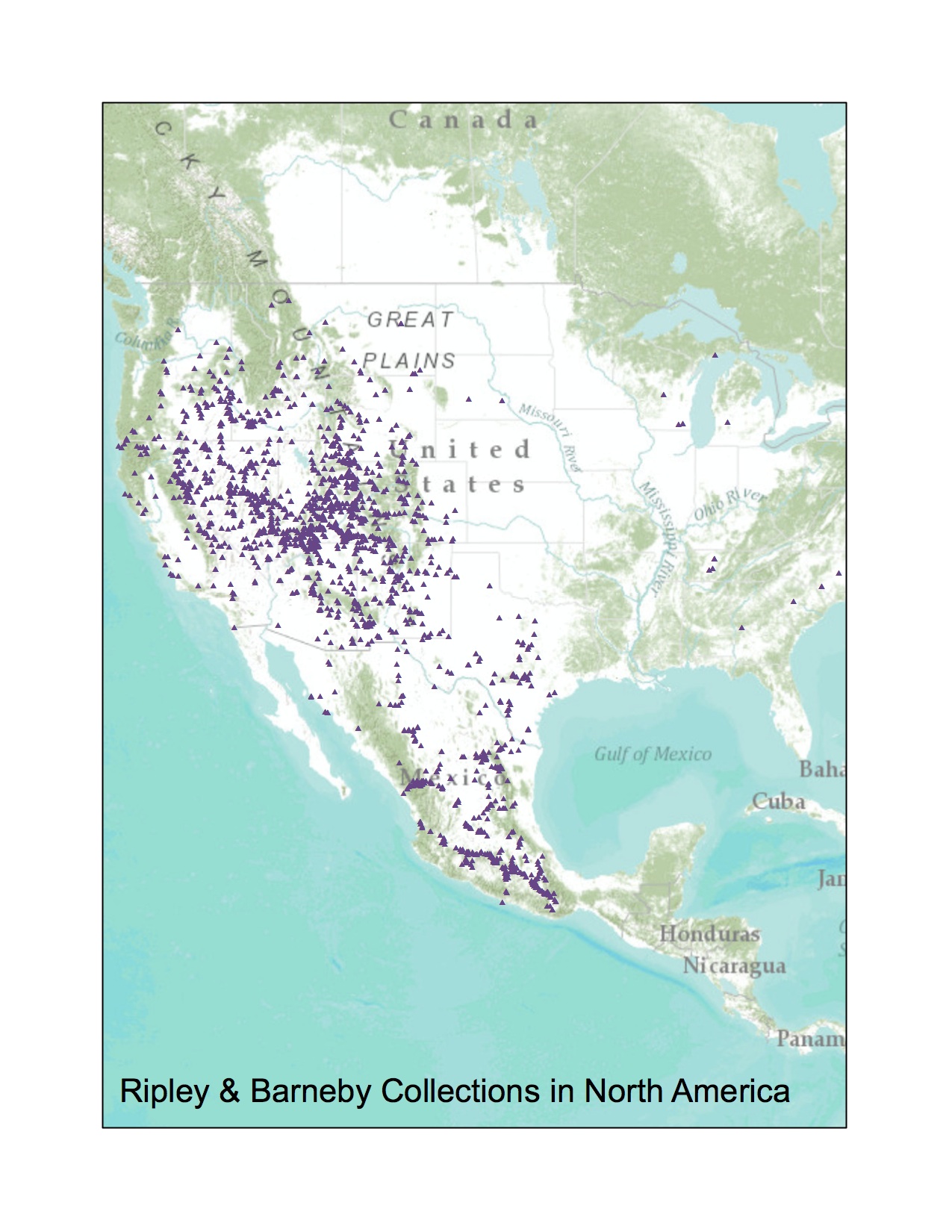 Some of the plant collecting sites of Ripley and Barneby during their long and productive careers.
Barneby Legume Catalogue: Mapping Barneby and Ripley Collection Localities. Rupert C. Barneby and colleague Dwight Ripley collected plants in the Western United States and Mexico in the later part of the 20th century. Many of their collections underpinned Barneby's extensive published works in two large genera of the legume family (Astragalus and Dalea), including many local and rarely collected species. Curatorial assistant Benito Santos Lorenzo and intern Ana Maria Ruiz are determining the latitude and longitude of these historic Barneby and Ripley collections. They are also mapping the specimen collection localities to add to the historic geographic information in the Barneby and Ripley field notebooks.
See also the Barneby Legume Catalogue
FACILITIES
The GIS Laboratory is located in the Harding Laboratory Building. The GIS Lab houses six Pentium 4 workstations running ArcGIS 10.1 (including Spatial, 3D and Geostatistical Analyst extensions) and statistical analysis and image processing programs. The Lab also includes a SMART Technologies interactive whiteboard system for demonstrations and training, flatbed scanners, a large format color printer, color LaserJet printer and a collection of global and regional spatial data. A full-time GIS Laboratory Manager maintains the equipment and software and provides training and assistance to users.