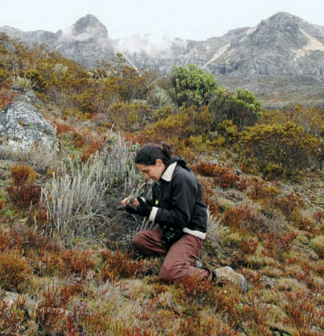 Doctoral student Alejandra Vasco collects ferns in the high mountains of Piedras Blancas in Venezuela.
Graduate Students
The Commodore Matthew Perry Graduate Studies Program provides advanced preparation and mastery of the field of plant diversity science for approximately 40 students annually who are working toward the Ph.D. degree. The Program operates in conjunction with the following six universities: Columbia University, Cornell University, Fordham University, Lehman College of the City University of New York, New York University, and Yale University.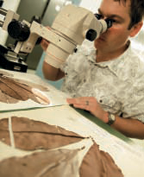 Doctoral student Seth Ganzhorn inspects herbarium specimens at the Garden.
Responding to the accelerating rate of habitat destruction in the tropics, the Botanical Garden has placed a priority on tropical research and the training of more botanists, not only from the United States, but from other countries as well. The Program serves a diverse student body, and Garden graduates have come from Asia, Africa, Europe and Latin America. After graduating, most foreign students return to their home countries to hold positions in government agencies, research centers, universities, and botanical gardens, where they have a direct impact on conservation, education, and biodiversity research.
Current Graduate Students
Name

Specialty

Research Projects

---

Allen, Jessica
jallen@nybg.org
Lichen systematics
Lichen Conservation Biology
Cannon, Brandi
bcc2145@columbia.edu
Parasitic plants, conservation, ex-situ propagation, in-situ restoration
Disturbance ecology and its overall influence on the conservation of Schwalbea americana (Orobanchaceae)
Cavaliere, Dario
dariocavaliere@nybg.org
Angiosperm systematics, Martyniaceae
Davoodian, Naveed
ndavoodian@nybg.org
Mycology, Phylogenetics, Conservation
Systematics of Gyroporus (Boletales)
Dorey, Jenna
jdorey@nybg.org
Systematics of Carex (Cyperaceae)
Systematics and Biogeography of the Woodland Sedges Carex section Laxiflorae (Cyperaceae)
Duguid, Marlyse
marlyse.duguid@gmail.com
Disturbance ecology
Gavrutenko, Maria
gavrucent@gmail.com
Reproductive biology of Melastomataceae
Gottschalk, Stephen
sgottschalk@nybg.org
Systematics and ecology of green algae
Hawken, Iona
iona.hawken@yale.edu
Urbanization, Land-Use, and Landscape Transformation in Amazonia
James, Thomas
thomas.james@yale.edu
Forest ecology
Keleman, Alder
Alder.keleman@yale.edu
Forestry and environmental studies
Lim, Gwynne
gsl47@cornell.edu
Plant Systematics
Martin, Meredith
meredith.martin@yale.edu
Forest management and succession
Morcol, Taylan
tmorcol@nybg.org
Ethnobotany
Rodrigues, Carlos
crodrigues@nybg.org
Systematics of Araliaceae
Schmiege, Stephanie
sschmiege@gmail.com
Physiology of drought stress in tropical trees
Sleith, Robin
rsleith@nybg.org
Systematics, ecology, and evolution of freshwater green algae
Starry Stonewort: Assessing the Threat of an Invasive Freshwater Macroalga in the Northeast
Stoike, Jeffrey
jeffrey.stoike@yale.edu
Agroforestry
Truong, Lan
ltruong@nybg.org
Ethnobotany
Wolkow, Robert
rw105@columbia.edu
Studies of Guyanese ethnomedicine
Young, Katherine
katherine.young@yale.edu
Agroforestry and ethnobotany
Zeng, Lily
lily.zeng@yale.edu
Biodiversity conservation, sacred landscapes, ethnic minorities


Back to Top