What's New in Science
For current stories from Garden scientists in the field and the lab, read or download the recent issue of "Spotlight on Science."
New Blog Launched: Science Talk
From the field to the lab, The New York Botanical Garden's scientists aren't just about white coats and microscopes—they're adventurous and determined globe-trotters who live to discover, understand, and preserve Earth's biodiversity. To reveal the complex and challenging nature of the groundbreaking research taking place here and around the world, NYBG has launched Science Talk, a blog dedicated to the far-reaching work of the Garden's botanical specialists. Check out and subscribe to the blog.
Getting Intimate with the Tapajós River Basin in the Brazilian Amazon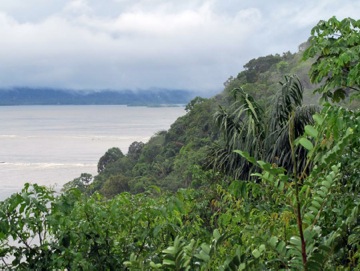 A glimpse of the Tapajós River.
Image by Benjamin Torke.
Garden scientist Dr. Benjamin Torke and a team of Brazilian collaborators are setting out to explore the basin of one of the largest tributaries of the Amazon River. The mostly clear water Tapajós flows through and impacts an enormous area and diversity of life―in habitats including rainforest, seasonally inundated riverine and swamp forest, savannas over white sands, and rocky shrublands. Little is known or understood about the plants growing in these habitats of the Tapajós River Basin, and many are thought to occur nowhere else.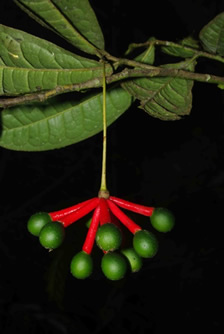 An unidentified species of Malmea (Annonaceae) found in Amazonia National Park.
Image by Thomas Couvreur.
The team of scientists will spend three years inventorying, identifying, and analyzing the plants found in two specific areas within the Basin that have been set aside for protection: the 2,162 square mile Tapajós National Forest and the 4,170 square mile Amazonia National Park. The work is critical at this point in time. Though these lands have some levels of protection, ranching, agriculture, and settlements are encroaching; illegal logging and mining are far from rare; and major hydroelectric dams resulting in large reservoirs and flooding are being considered along some of River's span. Real data on plant diversity in the Tapajós River Basin will allow communities and governments to make informed decisions on balancing conservation and development into the future.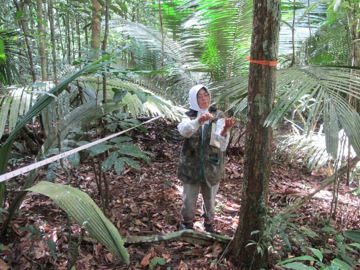 Collaborator Chieno Suemitsu measuring stem diameter in the Tapajós National Forest.
Image by Benjamin Torke.
The researchers will pool existing, scattered knowledge about plants of the Tapajós River Basin and add to it with new knowledge from project explorations and inventories. Using state-of-the art informatics technologies, the resulting dynamic, shared, web-based conspectus will include detailed information about each species found and images and other resources to aid their accurate identification. The project will also enhance capacity for the study of biodiversity in the region by expanding reference specimen collections in local and international herbaria, and by providing training opportunities for students and professionals, both locally and at The New York Botanical Garden.