The Macrofungi Collection Consortium: Unlocking a Biodiversity Resource for Understanding Biotic Interactions, Nutrient Cycling and Human Affairs
The National Science Foundation has announced a new grant to provide funding for a nationwide, publicly accessible database of mushrooms and related fungi. Including mushrooms, porcini, puffballs, club fungi, conks, morels, stinkhorns, truffles and cup fungi, these organisms play a critical role in the lives of plants and animals, including humans. Some are gastronomical delights, others are deadly poisonous, and all serve as nature's recyclers, returning nutrients to the soil through decomposition.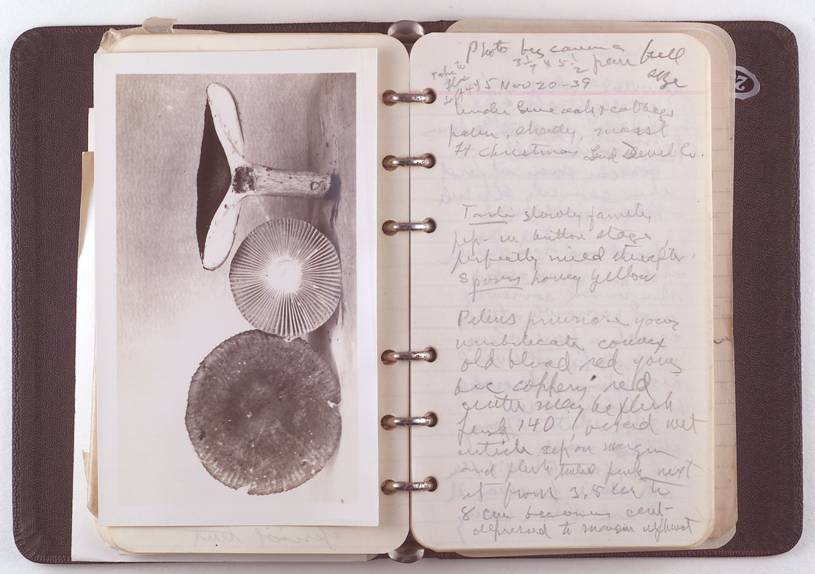 Field notes and photo of Russula.
Scientists in the U.S. have been studying macrofungi for the past 150 years, resulting in a legacy of approximately 1.4 million dried scientific specimens conserved in 35 institutions in 24 states. Through this project, led by Drs. Barbara M. Thiers and Roy E. Halling of The New York Botanical Garden, these treasures will be virtually liberated from their museum cabinets and shared on-line through the Mycology Collections Portal and through many other on-line collections databases such as The Garden's Virtual Herbarium. The database created by this project will enable a national census of these critically important organisms, and allow researchers to better understand the relationship between macrofungi and other organisms.
The benefits of this project will extend beyond the scientific community. Organized into regional clubs or national organizations such as the North American Mycology Association, mushroom enthusiasts play a critical role in documenting macrofungi diversity, and some are acknowledged experts in mushroom identification. Through their lectures, hikes, fungus fairs and individual consultations, these groups are a key source of information about wild edible and poisonous fungi for poison control centers and the public. The project will help citizen mycologists with their own studies, while enlisting their help with the editing and enhancement of data from the specimens through crowdsourcing.