Why We Matter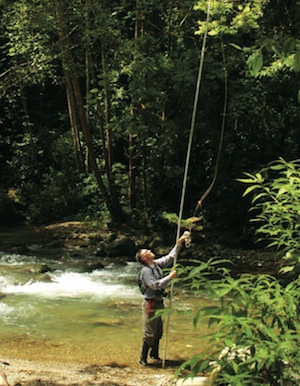 The New York Botanical Garden is an advocate for the plant kingdom...
This excerpt from The New York Botanical Garden's mission statement drives our ambition to continually reach for new heights—in discovering, understanding, and preserving biodiversity. This is a critical objective in a world that is increasingly under environmental pressure, and whose future depends on momentous decisions based on rigorous scientific research.
One of the Botanical Garden's paramount goals is to lead in the documentation of every plant and fungal species on Earth. Despite growing habitat destruction and other environmental challenges, Garden scientists persevere in exploring new ground. Comprehensive identification of species and determination of plant relationships are important prerequisites for conservation efforts and sustainable management of plant resources used as foods, medicines, and fuels.
The Botanical Garden is one of the world's preeminent free-standing plant research organizations. The Garden conducts basic research in plant biology and studies all species of plants and fungi around the globe. Our scientists use sophisticated techniques such as molecular systematics, genomics research, and digital imaging. Never before has the need been greater to integrate the use of our unparalleled resources—in the field, laboratory, library, and herbarium—to maximize the impact of our work and maintain our position at the forefront of worldwide botanical research.
With its longstanding scientific mission and unmatched facilities, the Garden is uniquely positioned to address increasing environmental challenges. The herbarium collection, assembled by our scientist explorers over more than a century, is among the four largest in the world and the largest in the Western Hemisphere; the virtual herbarium database adds 45,000 new records each year; the library is the world's most important botanical and horticultural resource of its kind; our internationally renowned scientific staff work in a new state-of-the-art plant research laboratory and a pioneering center for molecular systematics, while running the largest botanical sciences graduate studies program at any botanical garden in the world.
The Garden brings remarkable assets to the scientific enterprise. Its physical and human resources together comprise one of the top science, research, education, and scholarly centers in the world, distinguished in scope, depth, authority, and excellence. The Garden's greatest distinction, however, lies in the way its many assets are interwoven to form an entity greater than the sum of its parts. From remote field sites to state-of-the-art laboratories, Garden scientists are working in concert to study and preserve the world's botanical heritage—and to help ensure the future of life on Earth.
Edward P. Bass and George M. Milne, Jr., Ph.D.
Chairmen of the Botanical Science Committee
Science Book, available here: Science Book