Frida Kahlo: Art, Garden, Life
May 16 – November 1, 2015
This blockbuster exhibition was the first to examine Frida Kahlo's keen appreciation for the beauty and variety of the natural world, as evidenced by her home and garden as well as the complex use of plant imagery in her artwork. Featuring a rare display of more than a dozen original Kahlo paintings and works on paper, the limited six-month engagement also reimagined the iconic artist's famed garden and studio at the Casa Azul, her lifelong home in Mexico City.
Art
The LuEsther T. Mertz Library's Art Gallery exhibition, curated by Adriana Zavala, Ph.D., featured 14 of Kahlo's paintings and works on paper—many borrowed from private collections—highlighting the artist's use of botanical imagery in her work.
Focusing on her lesser-known yet equally spectacular still lifes, as well as works that engage nature in unusually symbolic ways, the exhibition included works such as Self-Portrait with Thorn Necklace and Hummingbird (1940); Flower of Life (1944); Still Life with Parrot and Flag (1951); and Self-Portrait Inside a Sunflower (1954).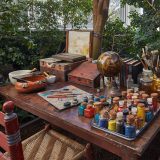 Garden
The Haupt Conservatory came alive with the colors of Kahlo's Mexico, greeting visitors with an evocation of the artist's garden at the Casa Azul (Blue House), her lifelong home.
A scale version of the artist's pyramid—created to display pre-Hispanic art collected by her husband, muralist Diego Rivera—featured traditional terra-cotta pots containing desert plants found in her garden. The exhibition included a reimagining of Kahlo's studio overlooking the garden, as well as the organ pipe cactus fence located at Rivera's studio in nearby San Ángel. Visitors experienced the Casa Azul as the ultimate expression of Kahlo's connection to Mexico and the natural world.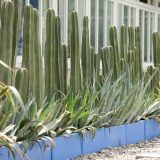 Life
The lively culture and style of Frida Kahlo's Mexico came to life at the Garden, highlighting the influences behind the artist's famed work through dance, music, food, and film.
Visitors delighted in the spirit of the exhibition during weekend festivities featuring contemporary sets of traditional Mexican songs, in addition to hands-on, family-friendly activities and shopping. Ballet folklórico dance performances and Mexican fare—including some of Kahlo's own recipes—made for a full day of upbeat and colorful entertainment. Recalling the inspired life lived by Kahlo and Diego Rivera, an engaging panel exhibition completed the experience with a presentation of museums and other sites where the creative pair's works and collections could be enjoyed.