April 29, 2019 – May 31, 2020
Beginning April 29, the palm dome of the Enid A. Haupt Conservatory will undergo restoration to ensure that the collections beneath it will continue to thrive for years to come. The Conservatory will remain open, with periodic gallery closures, and we will continue to offer exciting exhibitions and programs during this time.
See the Restoration's Progress
Todd Forrest, Arthur Ross Vice President for Horticulture and Living Collections, explains the restoration process.
See how the restoration is progressing with our summer update.
Learn more about what's happening in fall as the restoration continues.
Discover the Conservatory's History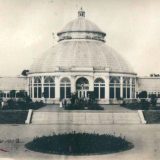 From Cornice to Cupola:
The Architecture of the Enid A. Haupt Conservatory
January 11–March 8
LuEsther T. Mertz Library Art Gallery
A new exhibition in the LuEsther T. Mertz Library Art Gallery will illustrate the Haupt Conservatory's exceptional design and construction by the renowned builders of America's most significant 20th-century glasshouses. Plans, drawings, and photographs from the Garden's Lord & Burnham Co. collection will bring to life the Conservatory's rich history.
LEARN MORE
See the Palm Dome from New Heights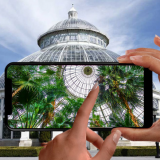 Palm Dome Interactive Mobile Guide
See inside the palm dome like never before with our interactive mobile guide. Special features include 360-degree augmented views, never-before-seen views of the tops of the towering palms, and more.
Meet the Plants of the Palm Dome

Join Marc Hachadourian, Director of Glasshouse Horticulture & Senior Curator of Orchids, as he shares some of his favorite plants from the historic palm dome.
Palm Dome Tour:
Verschaffeltia splendida
Find out about the roots and spines of Verschaffeltia splendida.
Palm Dome Tour:
Coccothrinax crinita
Find out why Coccothrinax crinita is called the "old man palm."
Palm Dome Tour:
Attalea oleifera
Learn more about the huge leaves of Attalea oleifera.
Palm Dome Tour:
Tacca chantrieri
Learn more about Tacca chantrieri, also known as the bat flower.
Palm Dome Tour:
Calytronoma rivalis
Learn more about our Calytronoma rivalis, which was grown from a seed here at NYBG.
Leadership Support:
LuEsther T. Mertz Charitable Trust
The City of New York
Bronx Borough President Ruben Diaz Jr.
Mayor Bill de Blasio and the New York City Department of Cultural Affairs
New York City Council Member Ritchie J. Torres
The State of New York
Empire State Development Corporation
New York State Dormitory Authority
The Palm Dome Interactive Mobile Guide is made possible by Bloomberg Philanthropies.
Please note: Restoration work in limited areas of the Enid A. Haupt Conservatory is taking place April 29, 2019 through May 31, 2020. This requires a temporary closing of its Palms of the World Gallery and two adjacent galleries to enable routine maintenance on the dome above it. The majority of the Conservatory's galleries remain open during this period presenting plants from around the globe.