Posted in Programs and Events, Science on September 30 2011, by Ann Rafalko
Saturday and Sunday, November 12-13, 2011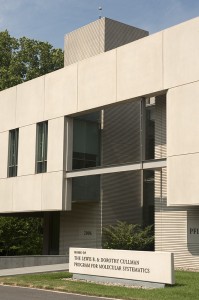 Our last attempt at hosting this "inside look" at The New York Botanical Garden's Science campus was rained out by a certain tropical storm (we're looking at you Irene), so we're trying again. And this time we're making it even bigger and better than before!
The Science Open House weekend will be held in conjunction with the second Thain Family Forest Dedication festival weekend, which means there will be a ton of fun activities for the whole family! Start inside with a look at the beautiful Pfizer Plant Research Laboratory, then explore the fascinating William and Lynda Steere Herbarium, and finally, listen to Garden scientists talk about their forest-based research. Then head outside and enjoy the beauties of fall in the Garden's historic, 50-acre Thain Family Forest: take an expert-led nature walk, canoe down the Bronx River and learn about its wildlife, climb a tree with an arborist, and so much more. The Garden is never the same two days in a row, so come spend a day in one of the world's greatest urban gardens, The New York Botanical Garden!
Head below the jump to see the schedule for this exciting weekend of science events!