From the Casa Azul to the GreenSchool, Frida Inspires Students and Educators Alike
Posted in Children's Education on February 10 2016, by Plant Talk
Patricia Caracappa is a Spanish Teacher at Howitt Middle School in Farmingdale.
---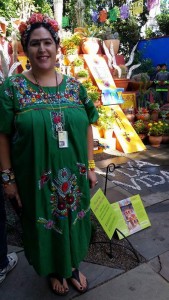 I am a teacher certified in both Art and Spanish who visited the FRIDA KAHLO: Art, Garden, Life exhibition on three separate occasions. As I experienced the show in three different ways during a five month period, both with my students and on my own, each visit left me speechless. Here I hope to give voice to my special experiences at the Garden.
My students at Howitt Middle School first experienced the rich offerings of Children's Education programs related to the exhibition when FRIDA KAHLO opened in May. During the Poetry for Every Season: Mexican Poetry Walk offered by the GreenSchool, my 7th grade Spanish students were challenged to find the connections between the lives of two significant contemporary Mexican artists: the painter Frida Kahlo and the poet Octavio Paz. Examining the thematic images in Kahlo's artwork and comparing them to the written themes they identified in Paz' poetry—in Spanish, too!—my students discovered for themselves the significance of the specific choices artists make to communicate ideas they care deeply about both visually and linguistically. This facilitated program revealed seamlessly the artists' close observation and symbolic uses of plants, their Mexican nationalism, and their deep appreciation for the natural world.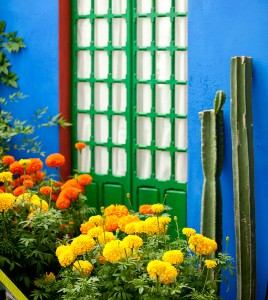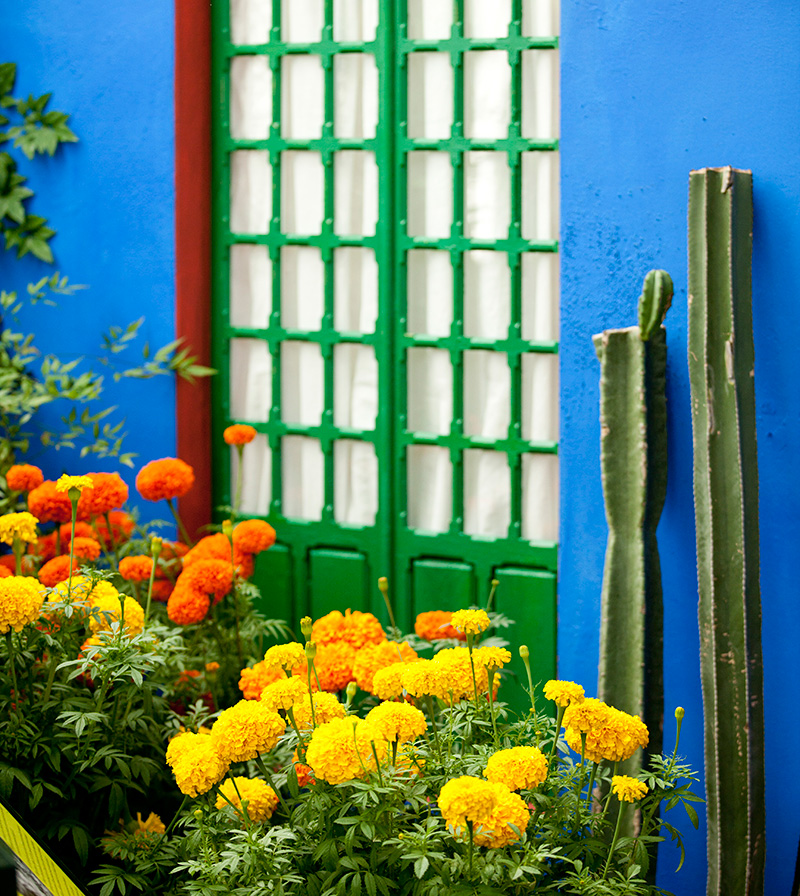 My second visit to the Garden was during a school break, when my husband and I enjoyed the beauty of the plants and gardens as general visitors. We were blown away by the lively spirit of the Garden and the thoughtful entertainment program offerings which embraced Mexico in an honorable way.
Inspired by my first two visits and reflecting about my experiences teaching Spanish for the past 13 years, I recognized this exhibition as the de facto culmination of my work—the melding of Hispanic heritage with Spanish poetry, history, and art, and I returned on October 30th with my 8th grade art students. This time I dressed for the occasion, as none other than Kahlo herself—I had the best time!
During the fall GreenSchool workshop, Frida Kahlo's Garden: Observe and Create, my students had the opportunity to not only immerse themselves in a space that re-imagines Frida Kahlo's time and place in history, but to consider the connections between Kahlo's art and her domestic space in the Casa Azul. By this time the Casa Azul's pyramid had also been transformed in preparation for the Mexican holiday, the Day of the Dead. To honor Kahlo with decorations—including an ofrenda—really enriched the program for my students.
It was an honor to visit and experience this exhibition in three different, meaningful ways. I will remember it forever—thank you, NYBG!