Posted in From the Library on August 29 2016, by Esther Jackson
Esther Jackson is the Public Services Librarian at NYBG's LuEsther T. Mertz Library where she manages Reference and Circulation services and oversees the Plant Information Office. She spends much of her time assisting researchers, providing instruction related to library resources, and collaborating with NYBG staff on various projects related to Garden initiatives and events.
---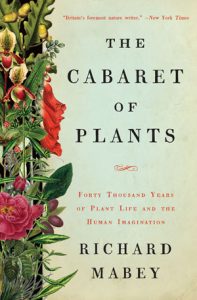 The Cabaret of Plants: Forty Thousand Years of Plant Life and the Human Imagination offers a resounding cheer for the Plant Kingdom. This new title by Richard Mabey brings a smorgasbord of plant history and science to a popular audience.
There are 30 essays in Cabaret, (including the epilogue), contained within approximately 350 pages. This means that on average each essay is just over 11 pages long. The variety of topics and the length of each section works very well—readers are able to jump into the text at any point, and spend a few minutes reading a succinct and melodious treatment on a particular topic relating to plants. These 30 essays are divided in 7 sections, but any essay can be read as an independent piece. Considering the nature of this book, (it is intended to be a mélange), the stand-alone nature of each section does not detract from the reading.