Posted in From the Library on December 22 2016, by Esther Jackson
Esther Jackson is the Public Services Librarian at NYBG's LuEsther T. Mertz Library where she manages Reference and Circulation services and oversees the Plant Information Office. She spends much of her time assisting researchers, providing instruction related to library resources, and collaborating with NYBG staff on various projects related to Garden initiatives and events.
---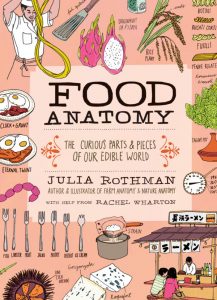 Food Anatomy: The Curious Parts & Pieces of Our Edible World is a delight for those who love food, history, or illustrated dictionaries. If you love all three, you will be in for a treat indeed!
Over the past couple of months, I have developed an interest in graphic novels related to food. When I saw that Julia Rothman, author of Farm Anatomy and Nature Anatomy had written a book about food (with help from food writer Rachel Wharton), I was extremely excited.
Food Anatomy is charming and eclectic. Readers can move through the book from cover to cover, or open at random to a section. Chapter titles include "Food for Thought," "Eat Your Fruits and Veggies," "A Grain of Truth," "The Meat of the Matter," "Dairy Queens," "Street Food," "Season to Taste," "Drink Up," and "Sweet Tooth." The book contains historical facts about different food, simple instructions about how different well-known staples are prepared, and explains food-related terminology. There is information about food preparation and utensils in various cultures, and the "staples" that are explained range from pasta to sushi to pancakes. While this isn't really a cookbook, there are some recipes included.