Posted in Around the Garden on February 28 2017, by Elizabeth Figueroa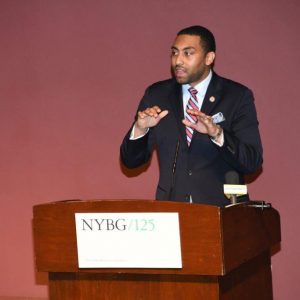 On Thursday, February 16, NYBG held celebrated Black History Month with workshops and presentations commemorating the accomplishments and contributions of African Americans.
This annual event invited school groups and visitors to attend facilitator-led workshops, including:
• Vickie Fremont: Students created African dolls while learning about the fabric, beads and shells as well as its significance in the African culture.
• Laura Gadson: Held a creative workshop making bandanas from quilted fabric to help students discover the African culture significance behind its colors.
• Pat Mabry: Presented a lively history on African Dance and Drum history
Afterwards, students filed into Ross Hall for a keynote address delivered by Senator Jamaal Bailey.