New York City EcoQuest Challenges
Posted in Garden News, Science on October 25 2018, by Plant Talk
By Daniel Atha, Director of Conservation Outreach, and Brian M. Boom, Ph.D., Vice President for Conservation Strategy and Bassett Maguire Curator of Botany
---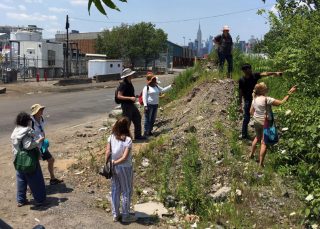 Citizen science is a growing trend across the globe as concern for the environment intensifies and people search for ways to mitigate the harmful effects of climate change, extinction, and habitat loss. A well-informed and engaged community is essential to conserve the indigenous flora and habitats of New York City. The most populous city in North America has many stakeholders and challenges to address. Reminding the public that plants are the foundation for life on Earth and that protecting them is important is central to the mission of The New York Botanical Garden. It is also a key component of the New York City EcoFlora project. Early in the development of the project, it was recognized that citizen scientists could not only help collect important data on the distribution and dynamics of the City's plant species, but as active participants, they would also learn about the ecology of the City and be more effective stewards and advocates for nature.
All of us today are pulled in many directions and getting the attention of busy New Yorkers is challenging. How to attract new volunteers, provide a rewarding experience and retain their interest throughout the year were important considerations. In this age of technology and artificial everything, time spent outdoors observing nature is increasingly scarce—yet increasingly valuable. NYBG's monthly EcoQuest Challenges are designed to give everyone the encouragement they need to venture outside and search for a featured plant or plant/animal interaction. With the advent of GPS-enabled cameras, it is now possible to document the distribution of species across New York City with unprecedented speed and accuracy at minimal cost. Botanists, citizen scientists, and even the casual observer can photograph a plant or animal and upload it to iNaturalist, an easy-to-use smartphone app and web program. Based at the California Academy of Sciences, iNaturalist is a non-profit, open-source program designed to record biodiversity data and help people connect to nature. Observations are automatically mapped with incredible accuracy, and comments and identifications are crowd-sourced by the community interested in that particular organism or the place where it was observed. Observations that are verified by two or more members of the community are elevated to research grade. At this level they are uploaded to the Global Biodiversity Information Facility, the world's largest database of biodiversity information.
The EcoQuest Challenge program began in August 2017 with MONARCHS AND MILKWEEDS. The public was provided with information on the 11 species of Milkweed plants historically known from New York City and the life-history of Monarch Butterflies, especially how to recognize them. During that first month, 72 citizen scientists made 445 observations of Monarch Butterflies or Milkweed plants throughout the City. Now in its 15th month, 832 participants have made more than 40,500 observations across all five boroughs as part of the EcoQuest Challenges. Become a citizen scientist and help document NYC's flora.
This article originally appeared as part of a series on responsible citizenry in the 2018–2019 issue of Garden News, NYBG's seasonal newsletter. For further reading, view the issue online and discover a sampling of stories about our current efforts and activities that promote, engage, and support active and responsible citizenry on local, regional, and global levels.