Decorating with Plants
Posted in From the Library on May 9 2019, by Esther Jackson
Esther Jackson is the Public Services Librarian at NYBG's LuEsther T. Mertz Library where she manages Reference and Circulation services and oversees the Plant Information Office. She spends much of her time assisting researchers, providing instruction related to library resources, and collaborating with NYBG staff on various projects related to Garden initiatives and events.
---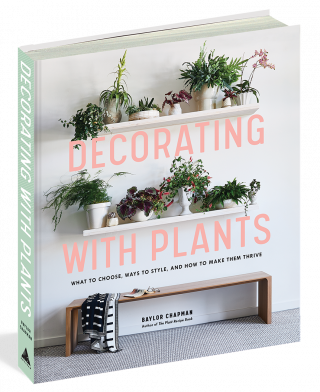 Decorating with Plants: What to Choose, Ways to Style, and How to Make Them Thrive (2019) is a book very much in keeping with the NYBG #plantlove theme of 2019. Author Baylor Chapman is the founder of Lila B., a plant and flower design business, and has previously written the popular The Plant Recipe Book: 100 Living Arrangements for Any Home in Any Season. Decorating with Plants provides readers with both a go-to plant list and a room-by-room guide to incorporating plants into the home.
From a horticultural perspective, there isn't much new information for readers, and some of the plant care details are highly simplified, which may not provide enough nuanced information for houseplant owners who use Decorating with Plants as their only resource. That said, the houseplants featured are in keeping with current houseplant trends, making this book a nice resource for those looking to update or expand their houseplant palette. The design elements and recommendations are especially interesting and inspiring, and would help any reader visualize the perfect spot for a plant or two.
Ultimately, Decorating with Plants is a nice new edition to the genre of houseplant books, and will inspire readers to try different plants in new places around the home.