Posted in Travelogue on March 28, 2014 by Bill Buck
William R. Buck, Ph.D., is the Mary Flagler Cary Curator of Botany at The New York Botanical Garden. Every January for the last three years, Dr. Buck, a moss specialist, and a team of colleagues have journeyed to the Cape Horn region at the southern tip of South America, to document the area's rich diversity of mosses and search for new species.
---
January 16, 2014; Puerto Williams, Isla Navarino, Chile (54°56'S, 67°36'W)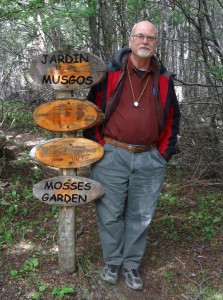 We returned to Isla Hoste the night before last, coming ashore at Punta Escala on Bahía Packsaddle. The day was colder than the previous one and sleet started falling shortly after we entered the field. It was a nice reminder of the "good times" we've had in years past.
I knew there was a stream somewhere in the direction I was headed, but every time I thought I heard running water it turned out to be the sound of the sleet pelting down in the forest. When I finally popped out of the vegetation and onto the beach, the stream was only a short distance ahead. Unfortunately, my scheduled pick-up meant I didn't have time to work my way upstream. I left that to my colleagues John Brinda and Juan Larrain, who found a number of interesting mosses.
I would have wanted to collect everything myself when I was younger, but at my age I'm just glad that someone collected the material. I was simply happy to have had the time alone in the forest, finding what I did. There aren't many advantages to advanced maturity, but a less competitive attitude is certainly one of them.