Rockefeller Center: Botanical History Underfoot
Posted in Nuggets from the Archives on July 11, 2014 by Lisa Vargues
Lisa Vargues is a Curatorial Assistant at The New York Botanical Garden's William and Lynda Steere Herbarium. Her work includes digitizing plant specimens, historical and new, from around the world for the C. V. Starr Virtual Herbarium and writing for the NYBG Press.
---
While admiring Rockefeller Center's renowned attractions, such as the famous 1934 gilded sculpture of Prometheus, it is easy to miss an inconspicuous reminder of the site's importance in American botanical history. Looking toward the middle of Rockefeller Center's Channel Gardens, directly behind a bronze sculpture of a sea nymph riding a fish, you will find the following plaque:

The land now occupied by Rockefeller Center was once the location of the Elgin Botanic Garden, the first botanical garden in New York State and one of the earliest in the United States. It was established by Dr. David Hosack in 1801 and is often referred to as a forerunner of The New York Botanical Garden. Dr. Hosack, who tended Alexander Hamilton's fatal wound following his duel with Aaron Burr, was a highly regarded physician and Columbia College professor of botany and materia medica. He created the Elgin Botanic Garden, named after his father's birthplace in Scotland, primarily to teach his students botany and the medicinal properties of plants.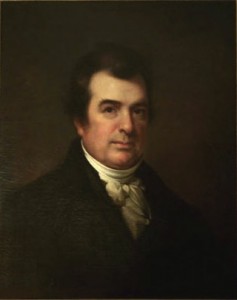 According to a 1908 description by Addison Brown, a botanist and federal judge, the Elgin Botanic Garden covered "about 20 acres, or 256 city lots, extending from 47th Street to 51st Street and from Middle Road (now Fifth Ave.) westward to a line about 100 feet east of Sixth Avenue." Situated in a wooded area about 3.5 miles north of the city's developed area at the time, the grounds included a conservatory and two hothouses and were surrounded by a stone wall seven feet high and 2.5 feet thick.
Among the approximately 2,000 plant species cultivated at the botanic garden were native plants and trees and "rare and valuable exotics" provided by botanists from abroad. Dr. Hosack's 1811 catalogue paints a vivid picture of the diverse botanical wonders that flourished on this site, such as tiger flowers, ginger, sugar cane, licorice, citrus trees, and many species of rose, passion flower, jasmine, and hibiscus. Dr. Hosack also held an annual strawberry festival here for his students, highlighting the berry's medicinal values. He said he "must let the class see that we are practical as well as theoretical. Linnaeus cured his gout and protracted his life with strawberries."
Unfortunately, Dr. Hosack, who had personally funded the Elgin Botanic Garden, could not afford to maintain it and sold it to New York State in 1811. In 1814, the land was transferred to Columbia College, which later became Columbia University. Shown here is the original 1811 deed from the Archives of The New York Botanical Garden, which acquired it from Columbia's herbarium. Although botanical collections remained on the Elgin property after the sale, the garden fell into decay and eventually succumbed to the northward march of New York's urban expansion.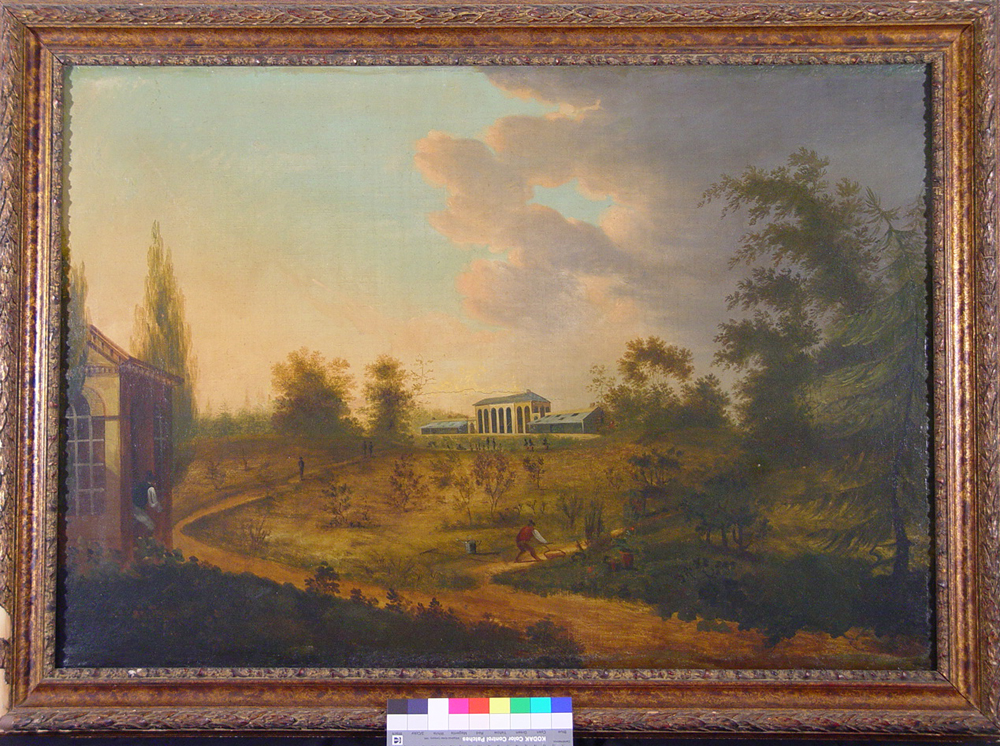 Pictured here, from the extensive collections of the Garden's William and Lynda Steere Herbarium, is a preserved Elgin Botanic Garden specimen of Glechoma hederacea (commonly known as ground ivy). This is one of several Elgin specimens acquired from Columbia University that are now stored at the Steere Herbarium. The above painting of the Elgin garden (ca. 1810; artist unknown) is from the Archives of The New York Botanical Garden; it was presented to the Garden by Rebecca Harvey, Dr. Hosack's granddaughter.
In modern times, Rockefeller Center retains its own botanical appeal with its beautiful Channel Gardens, Rooftop Gardens and, of course, the spectacular Rockefeller Center Christmas tree. It is fascinating, as well, to stand in the midst of its Art Deco structures (perhaps while enjoying a few strawberries) and imagine what grew and blossomed in the soil beneath the pavement long ago, when Dr. Hosack's garden dream materialized for a brief span in New York's history.
---
Portrait of Dr. Hosack courtesy of Wikimedia Commons
Plaque and statue photos courtesy of Lisa Vargues