A Day in the Life of the Bronx River
Posted in Interesting Plant Stories on December 17, 2014 by Daniel Atha
Daniel Atha is a Research Associate at The New York Botanical Garden.
---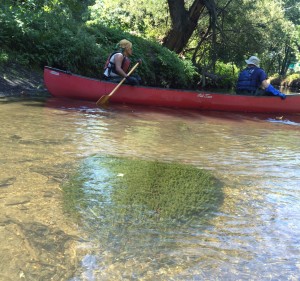 Plants that grow beneath the surface of streams and other bodies of water are easy to overlook, but they play important roles in aquatic ecosystems. They help clean and oxygenate water, stabilize fragile stream-beds, and provide food and habitat for aquatic and wetland creatures, including insects, fish, and waterfowl.
Examples of submerged aquatic plants include native pondweeds, coontail, and eel-grass. But some species—milfoil, fanwort, curly pondweed, hydrilla, and others—may become invasive, choking waterways, consuming oxygen, and reducing biodiversity.
In August, a team from The New York Botanical Garden, the Bronx River Alliance, and the New York City Department of Parks and Recreation surveyed the upper reaches of the Bronx River, looking for native and invasive species of submerged aquatic plants. The survey was jointly organized by NYC Parks, the New York-New Jersey Harbor & Estuary Program, the Bronx River Alliance, and representatives from other federal, state, city, university, and community organizations.

Survey methods involved visual inspection from canoe and kayak, collection of herbarium and DNA samples, and detailed data collection including GPS coordinates and habitat and plant descriptions. Samples were brought to the Botanical Garden for identification, archiving and posting on the Garden's publicly accessible C. V. Starr Virtual Herbarium.
Between 219th Street in Shoelace Park and the Mosholu Parkway just north of the Garden, the team discovered six species of submerged aquatic flowering plants, four native and two exotic. Two of the native species found, horned waterweed and common pondweed (Zannichellia palustris and Elodea canadensis, respectively) were first documented from the river in 2010 within the Garden.
The other two native species, small pondweed (Potamogeton pusillus) and leafy pondweed (Potamogeton foliosus) have never been documented from the river before and are new records for Bronx County. These new records were recently published online. The team also found one small population of each of the alien species, pond water-starwort (Callitriche stagnalis) and curly pondweed (Potamogeton crispus), the latter a troublesome invasive.
All species were vouchered with herbarium specimens and DNA samples that will be archived in the Garden's William and Lynda Steere Herbarium and made publicly available on the Internet through the Starr Virtual Herbarium. Scientifically verifiable records of both the native and exotic species will provide resource managers, scientists, and policy-makers vital data needed to understand the species, their role in the environment, and how to sustainably manage the resource.
The discovery of a diverse assemblage of native species thriving in the waters of the Bronx River is a testament to the hard work and dedication of the many groups and individuals who have worked tirelessly over the years to clean up the river and make it a vibrant, diverse, and healthy cultural and environmental treasure.