Posted in Interesting Plant Stories on August 24, 2015 by Ansel Oommen
Ansel Oommen is a freelance writer, artist, and research assistant for the Research Foundation for Mental Hygiene at Columbia University Medical Center. For the last year, he has been a volunteer at the William and Lynda Steere Herbarium at The New York Botanical Garden.
---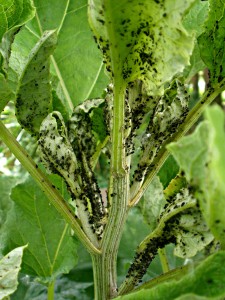 In one way or another, I have been involved with the world of plants and insects since early childhood. So when I heard about the volunteering opportunities available at The New York Botanical Garden, I knew exactly how I wanted to spend my spare time.
Under the guidance of Project Coordinator Mari Roberts, I worked on herbarium records for the Tri-Trophic Thematic Collection Network (TTD-TCN). The TTD-TCN is an ambitious database that connects universities, museums, botanical gardens, and other partners to organize and study records pertaining to plant-insect relationships, particularly those of the "true bugs" (the insect order Hemiptera, which includes aphids, cicadas, and leafhoppers, among others), their host plants, and the insects that parasitize the true bugs (the order Hymenoptera, which includes wasps, bees, and ants).
This project held distinct meaning because it was not the first time that I had encountered such complex interactions Last summer, I reared dozens of cabbage white caterpillars (Pieris rapae) to adulthood. In the process, I discovered that their host plant, kale, was also home to an interesting array of multi-legged denizens, including the cabbage aphid (Brevicoryne brassicae), the larvae of the diamondback moth (Plutella xylostella), predatory hoverfly larvae, and the parasitoid wasp Cotesia glomerata. I watched with both awe and horror as multiple wasp pupae erupted out of one caterpillar and how, subsequently, its behavior changed.