Posted in Interesting Plant Stories, Learning Experiences on February 29, 2016 by Jenifer Willis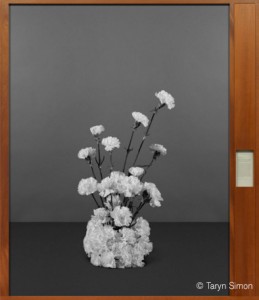 Chelsea's powerhouse Gagosian Gallery is not the most likely place you'd find pressed herbarium specimens.
But that's exactly what you'll see there as part of the gallery's current show by multidisciplinary artist Taryn Simon.
In "Paperwork and the Will of Capital," Simon recreates and photographs the elaborate centerpieces that sat between powerful men as they signed agreements designed to change the world. Preparing the exhibition, Simon worked with Daniel Atha, NYBG botanist and Conservation Program Manager, and Sheranza Alli, NYBG Senior Museum Preparator and Herbarium Aid, who teach a Plant Collection and Preservation Workshop at the Garden.