NYBG Scientists Help Discover a Promising Anticancer Agent to Fight a Childhood Scourge
Posted in Interesting Plant Stories on March 30, 2016 by Daniel Atha
Daniel Atha is the Conservation Program Manager at The New York Botanical Garden.
---
A chemical agent found in a member of the snapdragon family (Scrophulariaceae) has shown early promise as a potential treatment for a cancer whose victims are overwhelmingly infants and children.
I recently co-authored a paper describing the potency of a chemical extracted from Armenian figwort (Scrophularia orientalis) in killing malignant cells found in neuroblastoma, a cancer of the nervous system. Neuroblastoma is the most common non-brain solid tumor in children and the most common cancer in infancy (NIH NCI, 2016). Almost half of its victims are children under two years of age.
In later stages, neuroblastoma can be very difficult to treat, requiring intense therapies with serious consequences for the child and his or her family. Treatments include traditional chemotherapy, radiation, surgery, stem-cell transplants and other, newer techniques such as monoclonal antibody therapy. As with many cancers, outcomes are better when detected early, but for those with advanced-stage cancer, new, more effective and less harmful treatments are urgently needed.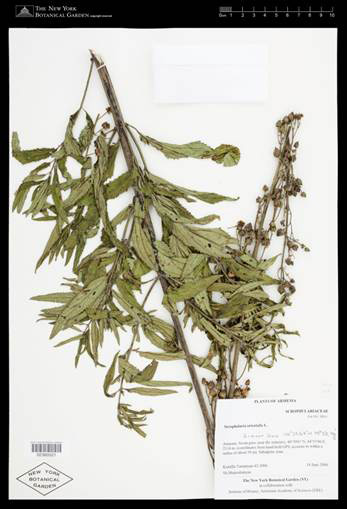 Specimens of Armenian figwort, a plant that has been used in traditional Chinese medicine, were collected in Armenia by a New York Botanical Garden collaborator, the late Kamilla Tamanyan of the Armenian Academy of Sciences, as part of the Floristic and Phytochemical Survey of the Caucasus Project, which I co-managed with Dennis Wm. Stevenson, Ph.D., Vice President for Botanical Research and Cullman Curator. The program collected more than 2,000 samples, documenting plant diversity throughout the Caucasus region, from the highest peaks along the Black Sea near Sochi, site of the 2014 Winter Olympics, to the deserts below sea level on the shores of the Caspian Sea near the Iranian border.
Among these thousands of documented plants, 500 were collected in bulk and screened for possible use in treating AIDS, heart disease, and cancer, including neuroblastoma. The samples were screened at the University of Hawaii by Dr. Ingo Koomoa-Lange, Dr. Dana-Lynn Koomoa-Lange and collaborators on the project, titled Molecular Mechanism and Development of Therapeutic Strategies Targeting MYCN-induced Calcium Signaling in Advanced Neuroblastoma, which was funded by Alex's Lemonade Stand Foundation for Childhood Cancer.
Using a number of advanced screening and evaluation techniques, the researchers identified new therapeutic agents from extracts taken from plants collected as part of the Garden's program. Extracts from Scrophularia orientalis significantly increased intracellular calcium levels and reduced neuroblastoma cell viability when compared to control cells.
The results suggest that extracts of Armenian figwort effectively kill neuroblastoma cells by inducing calcium release and opening the membrane of the cell's mitochondria, the so-called "powerhouses" of cells, without which they cannot live. Much more research and testing remains to be done, but the extract could eventually be used as an alternative strategy for treating neuroblastoma and may lead to the development of more effective anticancer treatments for this childhood killer.
Our work on this project is the most recent example of how The New York Botanical Garden has collaborated with the medical community since the Garden's inception to screen plants for therapeutic agents, including cancer treatments. For example, the discovery of tubocurarine, a widely used anesthetic in the latter half of the 20th century, was facilitated by Botanical Garden scientist Boris A. Krukoff, who instructed the discoverer, Richard Gill, on collection techniques and who correctly identified the plant specimens collected by Gill.
References
Lange, I., J. Moschny, K. Tamanyan, M. Khutsishvili, D. E. Atha, R. P. Borris & D. Koomoa. 2016. Scrophularia orientalis extract induces calcium signaling and apoptosis in neuroblastoma cells. International Journal of Oncology 48: 1608–1616. http://dx.doi.org/10.3892/ijo.2016.3373.
NIH NCI. 2016. Neuroblastoma Treatment–for health professionals (PDQ®), General Information About Neuroblastoma http://www.cancer.gov/types/neuroblastoma/hp/neuroblastoma-treatment-pdq#link/_534_toc