Audubon's Final Journey: Botanical Relics Uncovered at NYBG
Posted in Interesting Plant Stories on October 31, 2016 by Lisa Vargues
Lisa Vargues is a Curatorial Assistant at The New York Botanical Garden's William and Lynda Steere Herbarium. Her work includes digitizing plant specimens, historical and new, from around the world for the C. V. Starr Virtual Herbarium.
---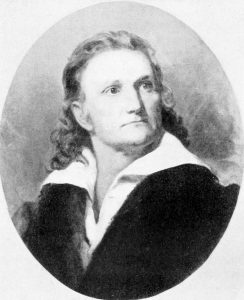 As the William and Lynda Steere Herbarium continues to digitize its 7.8 million preserved plant specimens for online access, one of the exciting aspects of our work is the opportunity to uncover a wide variety of historical treasures. Four specimens in particular recently grabbed my attention. Based on the label data, these pressed plants, suddenly pulled from obscurity, were collected during John James Audubon's Quadrupeds expedition.
Born in Saint-Domingue (now Haiti) in 1785, naturalist and painter Audubon moved to France during childhood and permanently to the United States as a young man. Audubon's name has long been synonymous with beautiful and dramatic paintings of birds in their natural habitats. The 435 life-sized paintings in his published work The Birds of America (1827-38, Havell Edition) continue to be treasured for their iconic style—most notably in 2010, when a first edition of this collection sold at Sotheby's in London for a record-breaking $11.5 million.

However, Audubon did not focus exclusively on birds. In 1843, he led an expedition whose sole aim was to document North American four-footed mammals. He and his team traveled up the Missouri River towards the Rocky Mountains, ending at the Fort Union Trading Post near present-day Williston, North Dakota. The result of this expedition was his monumental work The Viviparous Quadrupeds of North America (1845-48, Imperial Folio Edition), in collaboration with his sons John and Victor and the Reverend John Bachman, a Charleston naturalist.
On Nov. 12, 1843, after returning to his home in northern Manhattan, Audubon reported in a letter to John Bachman, (who had remained in Charleston), that he had amassed "a large collection of dried plants, principally flowers, and an abundance of precious seeds" during the expedition (likely for documenting animal habitats and diets). As noted in Quadrupeds, this collection was nearly left behind when a snake distracted the expedition team.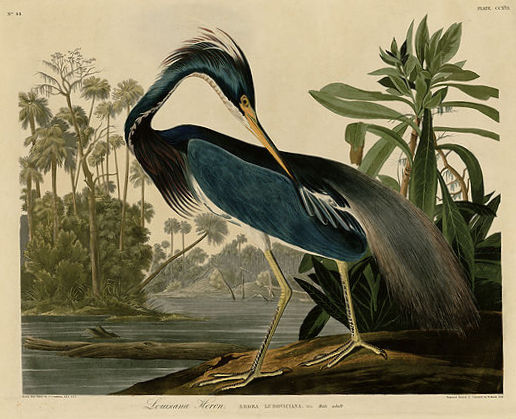 Two of the Steere Herbarium's Audubon specimens are from the legume family; the other two are from the honeysuckle and figwort families. The specimen sheets can be viewed in their entirety here, with taxonomic names and collection data, on NYBG's C. V. Starr Virtual Herbarium site. (Any Audubon specimens found in the Steere Herbarium in the future will be added to this link.)
Prior to the expedition, Audubon completed part of the Quadrupeds project based on his observations of animal specimens he was able to obtain. Unfortunately, his health gradually deteriorated after his return home, and his work pace steadily slowed before he died in 1851. His sons and Bachman, collaborators from the outset, were prepared to forge ahead with the project. About half of the artistic work (out of 150 paintings) was completed by his sons, while Bachman wrote much of the scientific text, which was completed in 1854. The result: a remarkable work of art and natural history hewn together with team and family effort (Audubon's sons were married to two of Bachman's daughters, and Bachman's sister-in-law and future second wife, Maria Martin Bachman, also contributed her artistic talents).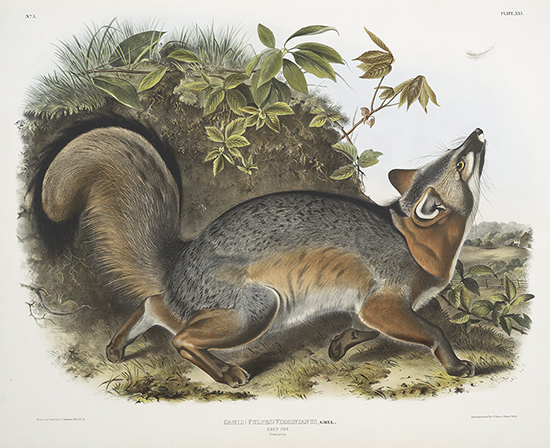 Today, Audubon's name is ubiquitous throughout the U.S., including Mount Audubon in Colorado, an Iowa county and city, two New Jersey boroughs, many parks, schools, bird and other wildlife sanctuaries, and the conservation-focused National Audubon Society. Audubon's grave can be found in Trinity Church Cemetery in Manhattan (on 155th Street, between Amsterdam Avenue and Broadway), near his family's former homestead. His house no longer stands—lost to northward urbanization, except for a solitary piece of floorboard preserved at the New-York Historical Society. His name, however, remains on the map of Manhattan: on Audubon Avenue and in the Audubon Terrace and Audubon Park Historic Districts.
As the specimen labels reveal, the Garden's Audubon plant specimens once belonged to druggist and botanist William Wallace Denslow (1826-1868), founding member of the Torrey Botanical Club and father of W. W. Denslow Jr., who was the original illustrator of L. Frank Baum's book The Wonderful Wizard of Oz. Denslow Sr. collected correspondence and specimens from many prominent botanists, and his main collection is housed at the University of Massachusetts Amherst, including additional Audubon specimens.
This slideshow requires JavaScript.
But the labels leave many questions unanswered: How did W. W. Denslow acquire Audubon's specimens? How exactly were these particular plant specimens used? And are there more Audubon specimens waiting to be discovered in the Herbarium? If only plants could talk!
Additional information:
Audubon Park Historic District, NYC
John James Audubon Center at Mill Grove, PA
New-York Historical Society—"The largest holdings of Audubon-related material in the world."
Trinity Church Cemetery & Mausoleum (a walking guide). Reportedly, Audubon's birthdate is incorrect on his monument.
University of Massachusetts Amherst (Herbarium & Libraries):
___________________________________________
Sources:
Audubon, John James. Audubon: Writings and Drawings. Edited by Christoph Irmscher. New York: The Library of America, 1999.
Audubon, F. R. S., & c. & c. John James and the Rev. John Bachman, D. D., & c. & c. The Quadrupeds of North America New York: V.G. Audubon, 1851. https://openlibrary.org/books/OL6971533M/The_quadrupeds_of_North_America
Boehne, Sarah E., with essays by Annette Blaugrund, Robert McCracken Peck, and Ron Tyler John James Audubon in the West: The Last Expedition: Mammals of North America. New York: Harry N. Abrams, Inc., Publishers, in association with the Buffalo Bill Historical Center, 2000.
"Denslow, William Wallace (1826-1868)." JStor Global Plants. Accessed August 14, 2016 http://plants.jstor.org/stable/10.5555/al.ap.person.bm000393232
Gamerman, Ellen. "'Birds' Book Soars to Record." The Wall Street Journal December 8, 2010. http://www.wsj.com/articles/SB10001424052748704250704576005751646141670
Peterson, Roger Tory, and Virginia Marie Peterson. The National Audubon Society Baby Elephant Folio: Audubon's Birds of America. Edited by Walton Rawls. New York: A Tiny Folio; Abbeville Press Publishers, 1991.
Rhodes, Richard. John James Audubon: The Making of an American. New York: Vintage Books, a Division of Random House, Inc., 2006.