Posted in Events on December 28, 2016 by Esther Jackson
Esther Jackson is the Public Services Librarian at The New York Botanical Garden's LuEsther T. Mertz Library, where she manages Reference and Circulation services and oversees the Plant Information Office.
---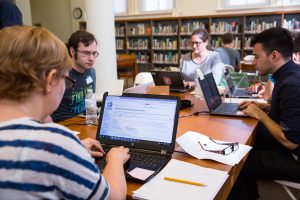 On Wednesday, January 25, 2017, from 1 p.m. to 6 p.m., the LuEsther T. Mertz Library will host a Wikipedia Edit-A-Thon focused on creating and enhancing articles for Women in Science. Specifically, we will be highlighting female scientists.
This NYBG Edit-A-Thon is a part of a week of Wikipedia editing events hosted by the Council on Botanical and Horticultural Libraries (CBHL). Other participating institutions include Mt. Cuba Center and the University of New Mexico. The theme for this series of Edit-A-Thons is "Plants and People." At NYBG, library staff has elected to focus on creating biographical Wikipedia articles for women who work within several areas of botany—ethnobotany, taxonomy, and plant collecting.