Roaming the Wilds of Early 19th-Century Manhattan and Beyond—and Taking Notes
Posted in Nuggets from the Archives on April 19, 2017 by Daniel Atha
Daniel Atha is the Director of Conservation Outreach for the Center for Conservation Strategy at The New York Botanical Garden.
---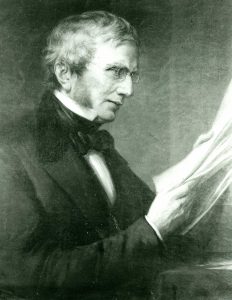 The New York Botanical Garden has been a leader in the development of modern methods for the study of phenology, the seasonal changes that plants and animals undergo every year. Beginning in the early 2000s, staff and volunteer citizen scientists have been monitoring changes in leaf, flower, and fruiting times throughout the year and from year to year. The methods and data developed at NYBG were eventually incorporated into the National Phenology Network's national program, which today includes hundreds of partners and thousands of observers in all 50 states.
The NYBG's legacy goes back even further—in fact, almost to the founding of the nation. While many of the founding fathers were still alive (and many had homes in and around New York City), a young medical graduate, John Torrey, was roaming the wilds of Manhattan, Brooklyn and nearby New Jersey, documenting pitcher plants, lady slipper orchids, white cedar swamps and many other botanical rarities now found only far to the north in colder, less disturbed habitats. As a scientist and natural historian, Torrey was meticulous about his methods, and he endeavored to broaden the impact of his work by including new and helpful information such as detailed locations and precise flowering times of the plants he found. In 1899, John Torrey's herbarium and papers passed from Columbia University (where he was a curator) to The New York Botanical Garden.
I have recounted the story of Torrey's phenological record of plants in and around early 19th century New York for the Biodiversity Heritage Library (BHL), a consortium of research libraries dedicated to digitizing the literature of biodiversity and making it accessible in a global "biodiversity commons." A digitized copy of his record, which he called Calendarium Florae for the Vicinity of New York, was recently added to the library's online resources. You can read the BHL post here.