Unwelcome Import: New Invasive Plant Found at NYBG and in Manhattan
Posted in New Plant Discoveries on May 12, 2017 by Daniel Atha
Daniel Atha is the Director of Conservation Outreach for NYBG's Center for Conservation Strategy at The New York Botanical Garden.
---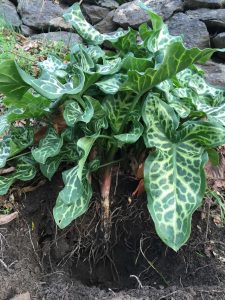 Italian arum (Arum italicum) is a European species popular with gardeners because it is shade-tolerant, deer-resistant, and sports lush foliage through the winter months when little else is green. Now, however, it appears to have escaped from cultivation and established itself as an invasive plant in several natural areas in New York City, including The New York Botanical Garden—the latest in a series of invasive plant species that are threatening our native species.
A low, herbaceous plant related to our native jack-in-the-pulpit (Arisaema triphyllum) and skunk cabbage (Symplocarpus foetidus), Italian arum forms dense patches and spreads by underground tubers and by seeds encased in bright red fruits attractive to birds. The plants produce several compounds toxic to mammals, including saponins, calcium oxalate, alkaloids, and others. It has become a dangerous pest in the Pacific Northwest and is classified as a Class C noxious weed in Washington State. On Lopez Island, Washington, conservationists have been trying to eliminate a two-acre infestation with little success. The species has shown remarkable resistance to herbicide treatment, and repeated cutting has had no effect.

Long considered too tender for New York's winters, Italian arum is proving hardy in our region, perhaps due to the warming climate, and has begun to spread into sensitive natural areas.
In February, the Lower Hudson Partnership for Regional Invasive Species Management (LH PRISM), a state-funded partnership of public and private stakeholders, alerted its network of partners to the threat posed by the Italian arum.
Led by botanists from NYBG and our partners in the New York City Department of Parks and Recreation, particularly the Natural Resources Group, a team launched an effort to identify all known infestations of the plant within the City. Herbarium specimens, photographs, and Citizen Scientist observations in iNaturalist led to the documentation of three populations of Italian arum in Manhattan and one in the Bronx. As my collaborators and I reported in this recent paper, Italian arum has invaded NYBG's Thain Family Forest, natural areas of Inwood Hill Park, and garden beds in Fort Tryon and Carl Schurz Parks. Natural resource managers responsible for each site will monitor these populations and experiment to determine the most effective methods of control.
This collaboration between scientists, concerned citizens, and natural resource managers is an example of Early Detection and Rapid Response (EDRR), the most effective approach to preventing the establishment of new invasive species. Our native flora and the habitats that support them are under increasing threat from climate change, development, invasive species, and sea-level rise. Swift action is required to identify emerging threats such as the Italian arum before they become as pervasive and difficult to eradicate as Japanese knotweed (Reynoutria japonica) or lesser celandine (Ficaria verna).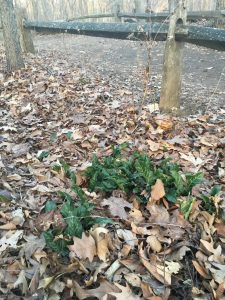 The Center for Conservation Strategy at NYBG is at the forefront of these efforts. The Center works to conserve native plants and their habitats in New York City and around the world. As part of that effort, Dr. Brian Boom, the Garden's Vice President for Conservation Strategy, and I work with colleagues in Horticulture and Living Collections to catalog and monitor the Garden's wild flora, including native and non-native species. In 2016, coinciding with the Garden's 125th anniversary, the team published a complete catalog of the Garden's wild flora. Field work for the flora led to the discovery of a wild population of pumpkin ash (Fraxinus profunda) in the Garden. This rare native tree was only recently added to the flora of New York State, where it is classified as an S1 rare species, the highest conservation status assigned by the New York Natural Heritage Program.
The Center will continue to identify new and emerging threats such as Italian arum as well as sensitive native species like the pumpkin ash.