A Taste for Adventure: Botanical Collections From a Polar Chef and Explorer
Posted in Nuggets from the Archives on June 29, 2017 by Lisa Vargues
Lisa Vargues is a Curatorial Assistant at The New York Botanical Garden's William and Lynda Steere Herbarium. Her work includes digitizing plant specimens, historical and new, from around the world for the C. V. Starr Virtual Herbarium.
---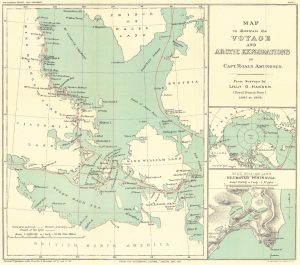 On August 31, 1906, a small Norwegian ship, the Gjøa, edged toward the coast of Nome, Alaska, in the darkness of night. The ship's captain and five crewmembers were thrilled when a brilliant search light beckoned to them from the shore, and Nome's residents greeted them with enthusiastic cheers and a chorus of the Norwegian anthem. It was a tremendous moment: the 70-foot-long Gjøa had just completed the first successful voyage of a single ship and expedition through the treacherous Northwest Passage, the sailing route joining the Atlantic and Pacific Oceans along the top of North America, through the complex maze of the Arctic Archipelago.

This epic voyage, lasting from 1903 to 1906, was headed by the renowned Norwegian explorer Roald Amundsen (1872–1928), who was also the first to reach the South Pole in 1911. Recently, through ongoing digitization work, a fascinating botanical collection from Amundsen's Northwest Passage expedition was uncovered in NYBG's William and Lynda Steere Herbarium—a repository of 7.8 million preserved plants from across the globe.
The Northwest Passage journey was Amundsen's longtime dream, largely inspired by English explorer Sir John Franklin, whose attempted crossing in 1845 ended fatally after the merciless ice claimed his two ships. (Only recently, in 2014 and 2016, were the ships finally found.) Many explorers before Amundsen had either failed or perished attempting to sail this sought-after shortcut between the Atlantic and Pacific. But these early attempts, as well as searches for the lost Franklin expedition, helped to pave the way for future ship navigation through the ice-riddled passage.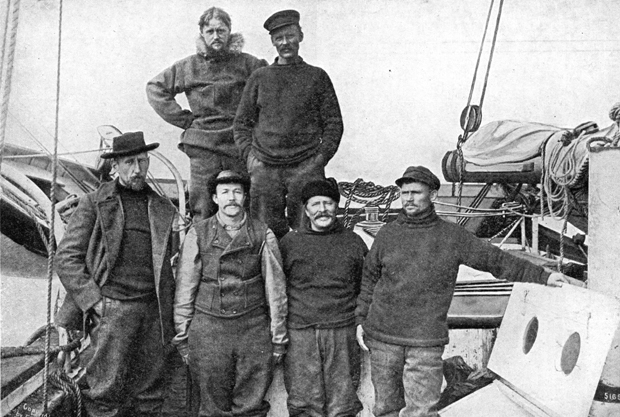 The Gjøa was not immune to terrifying moments and tragedy: one of Amundsen's six crewmembers (Gustav Wiik, who assisted with magnetic North Pole measurements) suddenly became ill and died en route and struggles ensued to save the ship from groundings and a nearly disastrous engine room fire. However, Amundsen's intensive preparation, plus the valuable survival skills taught by the local Inuit, were keys to the expedition's ultimate success. The petroleum engine and small size of the Gjøa were also advantageous in navigating the challenging waterways.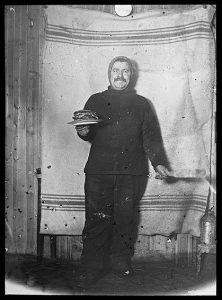 Another essential key to the expedition's success was its food supply. Adolf Henrik Lindstrøm (1866–1939) was the Gjøa's indispensable and experienced polar chef who kept the crew well-fed for the journey's extreme physical and mental demands. "His kitchen continuously produced roasts, pies, pancakes, stews, cakes, breads—all delicious and of high quality," as Stephen R. Bown writes in his book The Last Viking. Additionally, their survival in this often stark landscape depended on fishing and hunting, as well as onboard staples such as pemmican (dried meat and berries mixed with fat).
Lindstrøm also had the official task of collecting numerous natural history specimens during this voyage, including plants, on behalf of the University of Christiania (now Oslo). So far, more than two dozen of Lindstrøm's pressed plants from the Northwest Passage expedition have been uncovered in the Steere Herbarium and are now accessible online through NYBG's C. V. Starr Virtual Herbarium, including collection information. Any future finds will be added to this site. NYBG may have received these from the University of Christiania in 1911 through an exchange.
In 1909, Danish botanist Carl Hansen Ostenfeld acknowledged Lindstrøm's "great service…to botanical geography" in his publication on the Gjøa Expedition's plant collection. Amundsen also affirmed that Lindstrøm "has rendered greater and more valuable service to the Norwegian polar expeditions than any other man."

Coincidentally, this year, A. H. Lindstrøm and the Gjøa have returned to the headlines: On June 3, a statue of Lindstrøm, sculpted by Håkon Anton Fagerås, was unveiled in Hammerfest, Norway, where Lindstrøm was born. Also, the original Gjøa (permanently housed in Oslo's Fram Museum) has recently been undergoing major restoration work by members of the Hardanger Maritime Center. This iconic ship in Norway and Lindstrøm's botanical collection at NYBG are remarkable time capsules from the Gjøa's Northwest Passage voyage, all carefully preserved for generations to come. With his statue now in place, Lindstrøm's distinction as a legendary chef and explorer is assured to live on.
_________________________
Additional information:
_________________________
Sources:
Amundsen, Roald. The North West Passage: Being the Record of a Voyage of Exploration of the Ship "Gjöa" 1903-1907. E. P. Dutton and Company, 1908. 2 vols.
Vol. 1
Vol. 2
Bown, Stephen R. The Last Viking: The Life of Roald Amundsen. Da Capo Press, 2012.
Ostenfeld, C. H. Vascular Plants Collected in Arctic North America (King William Land, King Point and Herschell Isl.) by the Gjöa Expedition Under Captain Roald Amundsen, 1904-1906 / Determined by C.H. Ostenfeld. Christiania: In Commission by Jacob Dybwad, 1910.