A New NYBG Report Provides the First Authoritative Assessment of NYC's Plant Life
Posted in Events on August 14, 2018 by Stevenson Swanson
Stevenson Swanson is the Associate Director of Public Relations at The New York Botanical Garden.
---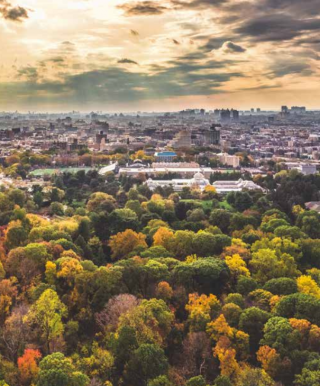 As part of The New York Botanical Garden's ongoing project to document all of the plant life of New York City, the Botanical Garden's Center for Conservation Strategy recently issued a new report, State of New York City's Plants 2018, the first in what is envisioned as an annual overview of the status of the city's spontaneous plant species—that is, native plants and non-native plants that have become established in the five boroughs.
The report, which was released at NYBG's First Annual EcoFlora Conference, found that 2,029 plant species have been reported in New York City from 1807 to 2018. The most species-rich families are the grasses, daisies, and sedges.
At the other end of the spectrum are rare and endangered plants. The International Union for Conservation of Nature, which tracks threatened and endangered plant and animal species, ranks six New York City plant species as critically endangered worldwide, including four species of ash trees, the American chestnut tree, and Bayard's Adder's-Mouth orchid. Adding in New York City species that are considered rare, threatened, endangered or extinct by the U. S. government and New York State, some 13 percent of the city's flora is imperiled or has gone extinct.

"The plants of New York City face threats from climate change, pollution, land conversion, competition and predation from invasive species, sea-level rise, and habitat fragmentation," write the authors of the report, Director of Conservation Outreach Daniel Atha and Vice President for Conservation Strategy Brian Boom, Ph.D. "In the face of these daunting challenges, however, we remain optimistic about the future of the City's indigenous flora. It will surprise most people to learn that forty percent of the City is open space, comprised of parks, gardens, campuses, and cemeteries. Within these green spaces, indigenous plant species still comprise two-thirds of the flora."
On a positive note, the report also highlights the vital role that citizen scientists are playing in increasing the store of information about New York City's flora as part of the Garden's New York City EcoFlora project, which is compiling historic documentation and new data about the city's plant life with the ultimate aim of helping to preserve plant biodiversity in the five boroughs. Since last August, an EcoQuest Challenge has given volunteers a new species or group of related species to search for every month.
As the EcoQuest celebrates its first anniversary, the report notes that 730 participants have made an impressive 30,000-plus observations across all five boroughs, an invaluable contribution to this crucial project.
The full report is available here.