Greece – Western Crete
A NATURAL HISTORY TOUR OFFERED BY THE NEW YORK BOTANICAL GARDEN
APRIL 25 – MAY 2, 2006
LEADERS: Scott Mori & Carol Gracie (NYBG); Bob Gibbons & John Akeroyd (in Greece )
---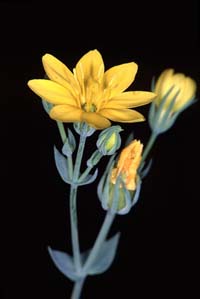 Yellow-wort (Gentianaceae)
Blackstonia perfoliata
© Carol Gracie
The beauty of the flora, landscapes, and archaeological ruins on our 2005 tour to Greece's Peloponnesian Peninsula proved to be so enchanting that we determined to return to Greece in 2006.
This time our destination will be the western part of Crete, the largest and southernmost island of Greece. "Beyond the wine-dark sea lies a land called Crete, fair and fertile," wrote Homer in the 8th century B.C. Please join us in exploring this special place.
The wealth and variety of the flora of Crete is due in part to its geographical location at the junction of three continents and in part to the variety of habitats found there. We will explore coastal dunes, wetlands, and scenic mountains and gorges where many of the endemic plants occur. The trip is timed for the peak of bloom in these higher areas. We'll hope to see endemic peonies, cyclamen, bellflowers, golden drop, and many of the 60 species of orchids that can be found on Crete. We'll also look for Balkan green lizards, griffon vultures, lammergeiers, butterflies, tree frogs, and the now rare kri-kri, Crete's endemic goat. In addition to hundreds of species of plants and wildlife, we'll have the opportunity to see ancient monasteries, churches, and other scenic areas.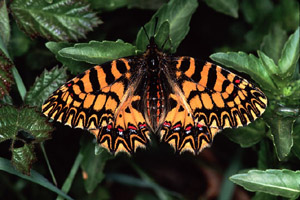 Southern festoon
Zerythina polysina © Carol Gracie
Our guide will again be Dr. Bob Gibbons. Bob is the author and/or photographer of over 30 books, among them Travellers' Nature Guides: Greece, published by Oxford University Press and Flowers at My Feet, published by HarperCollins. His patience, enthusiasm, and knowledge will add much to the pleasure of the trip. Bob's co-leader will be Dr. John Akeroyd. John has written several books on European wildflowers, revised Volume 1 of Flora Europaea, and is the Editor of the journal, Plant Talk. He has been researching the Cretan flora for over 25 years, and is also well-versed in Greek history and culture.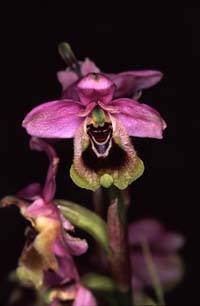 Sawfly orchid (Orchidaceae)
Ophrys tenthredinifolia
© Carol Gracie
We will meet at the airport in Chania at mid-day on April 25th after arriving in Crete on an individual basis. Last year some people chose to visit other areas of interest in Greece either prior to or following the tour. For example, you might wish to visit the archeological wonders of Athens and Delphi on the mainland or ancient Knossos in north central Crete. There are daily flights to Chania from Athens.
Dr. Scott Mori and his wife, Carol Gracie, have extensive research and guiding experience and have led over 30 tours for The New York Botanical Garden. They are authors of A Guide to the Vascular Plants of Central French Guiana, among other publications. Both also contributed family treatments and photographs for the recently published Flowering Plants of the Neotropics, and Carol's book, Wildflowers in the Field and Forest: the Northeastern United States, will be published in 2006.
For additional information, call 718-817-8647, e-mail to cgracie@nybg.org, or send the form below to: Carol Gracie, The New York Botanical Garden, Bronx, NY 10458.
---
Fee: $2780 includes accommodations, meals, and transportation from our Chania meeting point and return to Chania. Airfare is not included. Click on links below for further information and for the registration form. Early registration is advised.

See photo gallery of Crete Wildflowers
Go back to Ecotours