Greece – Mani Peninsula
A NATURAL HISTORY TOUR OFFERED BY THE NEW YORK BOTANICAL GARDEN
APRIL 2– 11, 2005
LEADERS: Scott Mori & Carol Gracie (NYBG); Bob Gibbons & John Akeroyd (in Greece )
---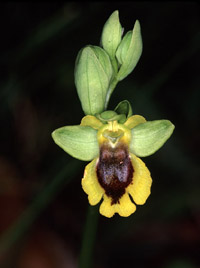 yellow bee orchid (Orchidaceae)
Ophrys sicula © Carol Gracie
In response to interest in visiting new places of natural history interest and beauty, we have added the Peloponnesian peninsula to our destinations for 2005. Greece has long attracted tourists to its great historical and archeological treasures, but few visitors have had the opportunity to appreciate the natural beauty and diversity of Greece's rich plant and bird life. The central finger of the Peloponnese , the Mani peninsula, is known for the craggy beauty of its mountains and gorges, its Kalamata olives, and its spectacular display of spring flora.
Spring starts early in the lowlands of the Mani. Though the nearby mountains may still be snow-capped, the lower regions are blanketed in wild species of tulip, iris, fritillaria, and crocus. Among the many other wildflowers, we should be able see several species of orchids, including 10 species of the fascinating "bee" orchids (Ophrys) that flower in early spring.
Our guide in Greece will be Dr. Bob Gibbons, a popular European tour guide, who is well-versed in the flora and fauna of the area that we will visit. Bob is the author and/or photographer of over 30 books, among them Travellers' Nature Guides: Greece, published by Oxford University Press and Flowers at My Feet, published by HarperCollins.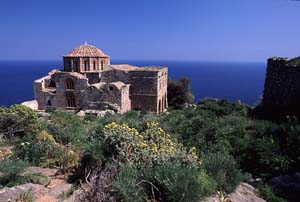 Agria Sofia at Monemvassia
© Carol Gracie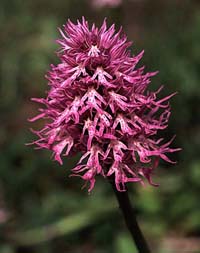 Italian man orchid (Orchidaceae)
Orchis italica © Carol Gracie
We will meet Bob for dinner in Athens on the evening of the second of April, take a short walk with him the following morning to view wildflowers near the Acropolis, and then head off to our hotel on the coast near Gythion for the next three nights. In addition to enjoying a wealth of flowers, butterflies, birds, lizards, and other wildlife, we will have the opportunity to visit the ancient site of Mystras and the fascinating medieval citadel of Monemvassia. The balance of our trip will be spent in Kardamili, on the west coast of the peninsula, where the local olive groves are a riot of color at this time of year. We'll visit nearby gorges, ancient villages in the mountains, and Byzantine churches during our walks in search of flora and fauna. Lesser kestrels, blue rock-thrushes, black-eared wheatears, and other birds are likely to be seen in this area. After four nights in Kardamili, we will return to Athens where we will overnight on April 10th. Since the tour begins and ends in Athens , you may wish to extend your trip at either end to visit some of Athen's rich cultural sites, or to see other parts of the country.
Dr. Scott Mori and his wife, Carol Gracie, have extensive research and guiding experience and have led over 30 tours for The New York Botanical Garden. They are authors of A Guide to the Vascular Plants of Central French Guiana, among other publications. Both also contributed family treatments and photographs for the recently published Flowering Plants of the Neotropics.

---