The Amazon
Joint Natural History Tour and Artists' Tour
---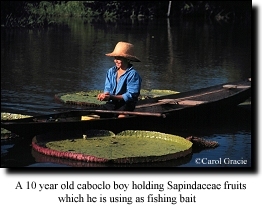 Since 1987, we have been leading small, natural history tours to the Brazilian Amazon. Our knowledge of the flora and fauna of the area combined with our love of the rain forest and appreciation for the culture of the caboclo people who live along the river permit us to offer a trip unlike any other. Our trips combine informal natural history instruction with a myriad of other activities - swimming in the tea-colored waters of the Rio Negro, hiking in the forest, fishing, early morning birding, nocturnal trips for alligator spotting, visiting with the local people, occasional cookouts, and a visit to the famed Opera House in Manaus. We will spend time on both the Amazon and the Rio Negro as well as its tributary, the Rio Cueiras. Our 1999 trip is planned to take advantage of the good weather of the early dry season when the river levels are still high enough to permit exploration of some of the smaller tributaries.
As always, we will live and travel aboard small, but comfortable, Amazonian river boats, both built within the last nine years. The boats, while not luxurious, are air-conditioned and have private bathrooms in each cabin. In addition, the food is delicious and well-prepared. The owner/captain of the boats is a legendary Amazon guide who is fluent in several languages. He enjoys sharing fascinating, and often humorous, legends and lore of the Amazon region in which he grew up.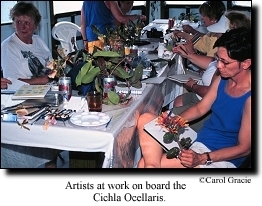 We will repeat our successful artists' option of last year, again under the direction of Katie Lee. Katie, a well-known natural history artist who is also an instructor in the Garden's Botanical Art and Illustration program, will provide instruction, encouragement, and criticism to those who elect to travel on "the artists' boat." One need not be an accomplished artist to participate in this program. Artists must bring their own materials according to the medium they wish to utilize. Because of size and time constraints, smaller projects are suggested. Katie will also demonstrate her techniques for producing a handmade, illustrated travel journal. Journals may be illustrated with artwork or with photos and memorabilia, or with a combination of both. The result will provide a personal memento of your Amazon journey. Joining Katie again on the artists' boat will be Lúcia Lohmann, a Brazilian botany student, who will assist in providing natural history information.
We are happy to have our friend and professional ornithologist, Mario Cohn-Haft, with us this year on the natural history boat. Mario is completing his Ph.D. research in the evolutionary ecology of Amazonian birds at Louisiana State University. He now lives in Brazil and is highly skilled in identifying the birds of region by sight and sound. We will all benefit from his expertise.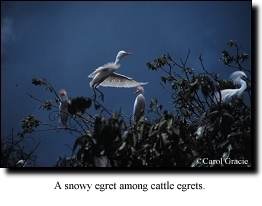 The two boats will travel together to allow us to share what each group has seen and done on our excursions. In our motorized canoes, we will travel through the flooded forest enjoying close-up views of epiphytic orchids, bromeliads, and other canopy life. We will often go ashore for short hikes in the forest and to visit with friendly caboclos who live along the river. These resourceful people have adapted to life in a region that requires marked changes in their lifestyle as the river rises and falls (by a difference of up to 40 feet annually).
Dr. Scott Mori and his wife, Carol Gracie, have extensive research and guiding experience in the tropics and have led 25 previous tours for The New York Botanical Garden. Katie Lee's artwork is in collections of The Rainforest Alliance, Dr. Shirley Sherwood, the Smithsonian Institution, and the Charles Darwin Foundation. She has also illustrated a number of children's books including two that have won the Parents' Choice Award. Mario Cohn-Haft has served as an ecotour leader and lecturer for groups visiting the Brazilian Amazon as well as a guest professor on the Passport to Knowledge televised program, Live from the Rainforest. Lúcia Lohmann is a tropical botanist specializing in the trumpet-creeper family (Bignoniaceae).
Art Gallery
---
Go back to Ecotours