Costa Rica: A Natural History Tour
Offered by the New York Botanical Garden
February 2-11, 2004
Leaders: Scott Mori & Carol Gracie (NYBG)
< Look at the photo gallery >

---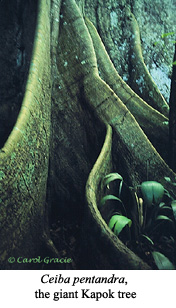 Although Costa Rica is only the size of West Virginia, it encompasses a wide variety of habitats. On this trip, our first to this popular destination since 1995, we will explore the southern part of the country, visiting rain forest and beaches in the lowlands and cloud forest and paramo in the highlands. Costa Rica is a botanist's delight, home to over 1000 species of orchids alone. Birders will be enchanted by sightings of colorful tropical birds – purple-crowned fairies, emerald toucanets – and, with luck, the resplendent quetzal.
Our first night will be spent in a lovely hotel in the hills overlooking San Jose. We depart the following morning for the highlands in the Talamanca Mountain range, staying for two nights in cozy mountain cabins in the San Gerardo valley. Here we'll explore the nearby lush cloud forest with trees festooned with orchids, bromeliads, ferns, and mosses.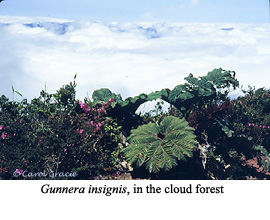 Las Cruces Biological Station and the Wilson Botanical Garden, close to the Panamanian border, are our next destinations. At the Botanical Garden we will visit one of the most important collections of tropical and subtropical plants in Central America, with over 2,000 native species, and the second largest collection of palms in the world. The surrounding Las Cruces Forest Reserve is composed of primary and secondary montane forest and is part of the Amistad Biosphere Reserve, an international Park formed jointly by Costa Rica and Panama. Manakins, aracaris, cotingas, and hummingbirds can be seen here. We'll stay two nights in this area.
Our final locality is the Osa Peninsula, site of Corcovado National Park. Here the lowland rainforest abuts the sandy, white beaches on Costa Rica's Pacific coast. Over a dozen ecosystems may be found in the park, each with its distinct vegetation type. Some 2-3% of the flora is endemic to the peninsula. A diverse fauna is also found including 5-6 cat species, anteaters, sloths, river otters, and peccaries. Our three night stay will give us ample opportunity to explore the natural wonders and enjoy swimming and snorkeling at the beautiful beaches.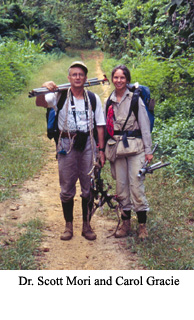 Dr. Scott Mori and his wife, Carol Gracie, have extensive research and guiding experience in the tropics and have led 30 previous tours for The New York Botanical Garden. They are the authors of A Guide to the Vascular Plants of Central French Guiana, among other publications.
Please join us for what promises to be a very special experience.
For additional information, call (718) 817-8647 or e-mail to Carol Gracie at cgracie@nybg.org.
Photo Gallery
---
Go back to Ecotours