</P>

The Herbarium Sheet

A Newsletter of The Botanical Science Division of The New York Botanical Garden
Editor: David L. Lentz
Email: dlentz@nybg.org

No. 280
Date: 30 May 2001

Dr. Colin Hughes of the University of Oxford, UK, the 2001 Rupert Barneby awardee, visited the New York Botanical Garden from 5-21 February to work on Andean Lupinus (Fabaceae). A research seminar entitled, "Systematics of Leucaena (Fabaceae: Mimosoideae): fieldwork, morphology and molecules," was presented during the visit. In addition to the two and a half weeks at NY, short visits also were made to the Bailey Hortorium, Cornell University in Ithaca and to the Smithsonian Institution in Washington, D.C.

Current knowledge of diversity within Lupinus remains fragmentary. The majority of species are native to western North America and the Andes in South America, with 12 species around the Mediterranean. Systematic investigation has concentrated on geographically delimited studies of Old World, North American, Argentinian, and the Brazilian unifoliolate species. The Andean and Mexican species remain poorly known. Geographic focus rather than monographic synthesis has resulted in a proliferation of supposed species. Two-thirds of the circa 1800 names were proposed by Smith in his Species Lupinorum - a series of 44 local or country treatments dismissed as fundamentally flawed by subsequent workers. The actual number of distinct species remains to be determined, but is probably 200-300 although even recent estimates vary from 150 to 600.

The North American species are comparatively well-studied, although even here there is no complete treatment available and still no consensus among botanists about the number of distinct species. For the poorly known Andean species, no such synthesis has thus far been attempted. For example, the 1993 Checklist of Plants of Peru follows the 1943 Flora of Peru which followed, virtually without change, Smith's Species Lupinorum. The Peru checklist includes 171 supposed species of Lupinus, but the number of distinct species is certainly far fewer. This confusion means that accurate species names cannot be placed on the majority of herbarium holdings of Andean Lupinus or used in national checklists and floras. The particular chaos among the Lupines of the Andes is aggravated by complex patterns of morphological variation often modified by micro-environment, lack of non-overlapping morphological characters, putative hybridization, the numerous land races resulting from domestication of L. mutabilis, and a diffuse and contrary literature burdened by a surfeit of names.

This confusion means that delimitation and description of species need to be carried out before more fundamental biogeographic, evolutionary and domestication questions can be addressed properly. For example, despite more than a century of debate, relevant data upon which to test competing biogeographic hypotheses surrounding the relationships between New and Old World species remain incomplete. Similarly, a clear understanding of the origins of L. mutabilis and the outcomes of its indigenous domestication as a widely used food plant in the Andes, are inextricably tied up with accurate delimitation of the Andean species.

The Lupinus holdings at NY are of particular significance for resolving species delimitation problems surrounding the Andean species because of previous work on the genus by Rupert Barneby. Barneby's 1989 Intermountain Flora treatment of Lupinus is one of the few regional revisions that have succeeded in clearing a way through the formidable tangle created by Smith's proliferation of supposed species and stands as a benchmark for species delimitation efforts in other areas. Barneby had also worked over the NY Andean material, making preliminary notes on species limits, albeit to no conclusive effect. Examination of the NY material and the associated notes in situ was thus of particular value as a prelude to any new work on this group and to much needed new field research.

All 820 specimens of Andean Lupinus at NY were examined and specimen data recorded using the database system BRAHMS (Botanical Research and Herbarium Management System, see:

http://www.brahms.co.uk. A concentrated spell of specimen work also allowed good progress towards a preliminary, albeit still very fluid, delimitation of species for the Andes. This work undertaken at NY forms part of a larger study to establish a new infrageneric classification of the genus and investigate a number of more fundamental biogeographic, domestication and evolutionary questions. However, the assembly of representative morphological and molecular data sets to address these questions must await accurate delimitation of the Mexican and Andean species. This work is supported by a Royal Society Research Fellowship in Legume systematics at the University of Oxford, and is being carried out in collaboration with workers in Argentina, Mexico and the USA.

Dr. Colin E. Hughes, Royal Society University Research Fellow


Department of Plant Sciences
University of Oxford
South Parks Road
OXFORD, OX1 3RB, UK
Email: colin.hughes@plants.ox.ac.uk

Olga Orozco, NYBG doctoral student in the joint NYBG/Lehman College, Plant Sciences program, CUNY, has been awarded the Mina Rees Dissertation Year Fellowship. As part of the award she will receive a grant of $10,000 to assist her in the completion of her doctoral dissertation, "Survey of poisonous plants and their use in Cajamarca, Peru." The Fellowship was named in honor of Dr. Mina Rees, founding President of the Graduate Center at CUNY.

Chris Hardy, currently a graduate student in the throes of completing his doctorate in the joint NYBG/Cornell University botany program, has accepted a post-doctoral position at the Institute of Systematic Botany, University of Zurich, Switzerland. It is a two to three year position to study the diversity and evolution of larger endemic plant groups of the Cape flora, South Africa. On this project, he will be working with Dr. Peter Linder, formerly of the Bolus Herbarium, South Africa, and authority on South African flora and the monocot family Restionaceae. Although based out of the University of Zurich, the project will involve several field trips to the Cape of South Africa. Way to go Chris!

Amna Ahmad, Lisa Campbell, Rocio Cortes, and Annemarie Costello received IAPT (International Association of Plant Taxonomists) Research Grants in Plant Systematics for the year 2001. Lisa Campbell and Annemarie Costello also received grants from The Explorers Club. Ms. Campbell and Ms. Costello will use their grant money to support field work this summer in Venezuela and Samoa. Congrats to all!! [Annemarie Costello]

At their recent meeting in May, the grant review panel of the National Geographic Society elected to fund the proposal entitled, "Wild Mexican Sunflowers: Progenitors of Modern Domesticates." The Grant was awarded to Dr. David Lentz and his co-investigators, Dr. Robert Bye of the National Herbarium of Mexico and Dr. Loren Rieseberg of Indiana University. The purpose of the project is to locate populations of wild sunflowers in Mexico that may be ancestral to our modern domesticates. Previously it was thought that sunflowers were domesticated in eastern North America, but discoveries of ancient (circa 2600 B.C.) sunflower seeds at the San Andrés site in Tabasco, Mexico, now indicate that sunflower was domesticated somewhere in northern Mexico. Funds from the grant will be used to finance a collecting trip to Mexico. After the field collections are processed, molecular analyses will be conducted to compare wild and domesticated sunflower populations in the hope of locating the wild populations most similar to our domesticated sunflowers.

The Archives staff has just completed the processing of the Garden's scientific archives under a grant from the National Endowment for the Humanities. The funds were used to hire a Project Archivist and an Archives Assistant along with a wide range of acid free materials which were used to rehouse the fragile collections. The scientific records and personal papers that have been processed are important primary resources for understanding the history of American botany.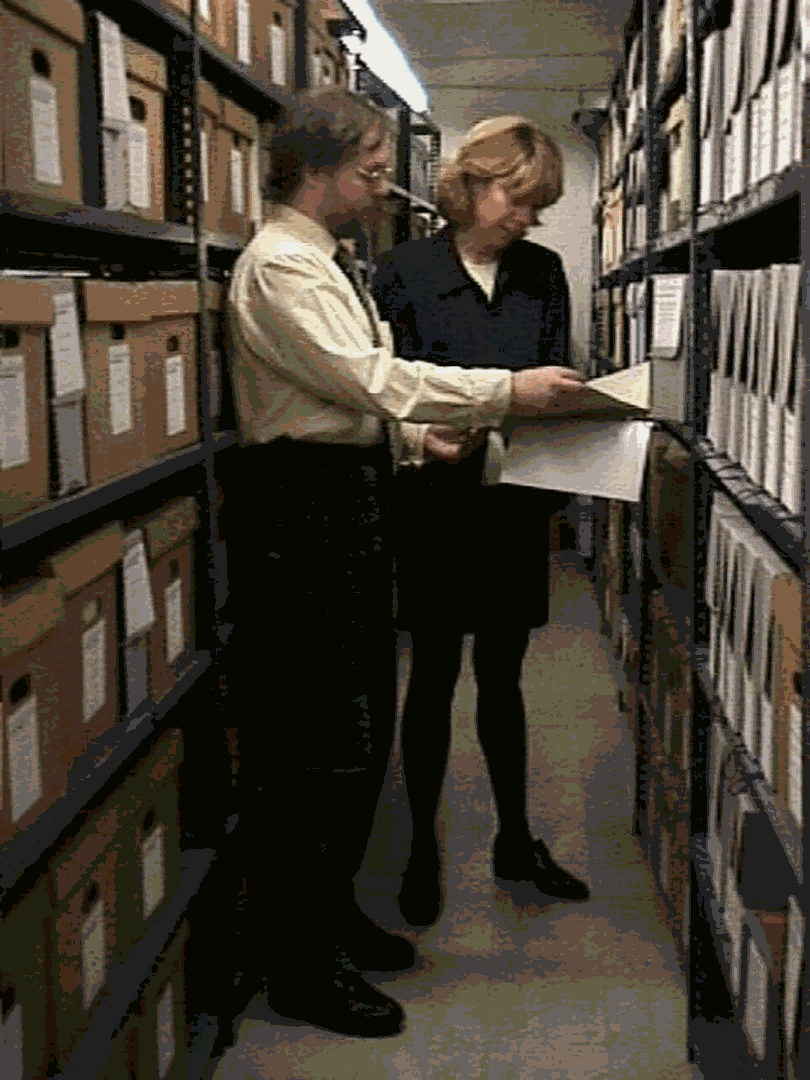 Collections processed by Susan Fraser, Stephen Sinon, David Rose, Laura Zelasnic, and Archives Volunteer Natalie Brody include the field notebooks, research and correspondence of over 100 scientists and focus on plant exploration, floristics, ecology, systematics and economic botany. They are particularly strong in areas relating to plant collecting and field activity relating to the American landscape, threatened and endangered ecosystems in the Americas and the development of our world-class herbarium and research facilites which have been a resource for botanists since 1899.

Among the many interesting items which have been described are an eyewitness account of the Japanese attack on Pearl Harbor written by Otto Degener, a letter giving the dimensions of the Beagle written by Charles Darwin, a 17th century letter written by the Countess de Cinchon, photographs taken in early 20th century rural China by Mary Strong Clemens, Thomas Edison's rubber research done here at the Garden, B. A. Krukoff's research files on medicinal plants and J. K. Small's list of Everglade plants drawn up in an effort to turn the area into a national park.

The project has brought to light an intricate web of interrelationships formed valuable insight into the personalities that shaped and guided the Garden though its first century. Each collection has a descriptive finding guide which features a biographical note and photograph, directions to its physical location, and can be accessed via the Internet. The first installation of these finding guides is now available through the Archives homepage at

http://www.nybg.org/bsci/libr/List.htm [Steve Sinon]

Sylvia Stein, long-term contributor to and member of The New York Botanical Garden, died April 18, 2001 after a short illness at the age of 88. Sylvia's husband of 60 years, Phillip, died in 1992 and is memorialized by a bench in the Garden. Sylvia led many nature and mushroom walks for the Garden. As a member of the Torrey Botanical Society, she led mushroom walks for many years and attended most meetings, including the April 2001 meeting. She often brought specimens for identification-- plants to Rupert Barneby, and mushrooms to Clark Rogerson and Roy Halling. She was a proficient violinist, expert amateur mycologist and was dearly loved by the members of the amateur mushroom groups, the New York Mycological Society and the Connecticut-Westchester Mycological Association. A memorial service was held April 22 in the Bronx. Roy Halling, David Rose and Roz Lowen from the Botanical Garden were among the many speakers. Sylvia will be missed. [Roz Lowen]

Barbara Joe Hoshizaki and Robbin C. Moran have just published the "Fern Grower's Manual, Revised and Expanded Edition." The book treats all ferns cultivated in the United States--over 700 species. Each species is described and illustrated. There are 12 introductory chapters about general fern horticulture. The book is 604 pages long and has 20 unnumbered pages that contain 50 color photographs. The book was published by Timber Press, and the cover and a few sample pages can be viewed at the Press's website

www.timberpress.com [Robbin Moran]

Ms. Tracy Scanlan, an undergraduate at California University of Pennsylvania, California, PA, will be working with me under the auspices of NSF's REU program (a supplement to my current NSF award). Her 8-10 week internship will be focussed on the taxonomy of Costa Rican macrofungi (the genus Marasmius in particular). During this time, she will have the rare opportunity to participate in a weeklong international workshop hosted & funded by INBio whose main goal "... is to obtain a set of identified, well annotated collections that will serve as a critical reference for identifying other material collected from this very much under-studied region." I expect her experience in establishing and monitoring permanent plots for The Nature Conservancy will come in handy. She even gets course credit for the internship from her university!


Now that's the way it ought to be----fungi, Costa Rica, and course credits. [Roy Halling]

The web page

http://www.nybg.org/bsci/fga/includes the Flora of the Greater Antilles Newsletters Nos. 1 (1991) through 17 (2001) issued by the The New York Botanical Garden and The Symposium of the Flora of the Greater Antilles, 22 & 23 June 2000. The program and abstracts can be accessed through the web page. [Tom Zanoni]
Areces-Mallea A.E. 2001. A new opuntioid cactus from the Cayman Islands, B.W.I., with a discussion and key to the genus Consolea Lemaire. Brittonia 53: 96-107.

Buck, W.R. 2001. An annotated list of the publications of Rupert C. Barneby. Brittonia 53: 41-57.

Holmgren, N.H. & S. Kelso. 2001. Primula cusickiana (Primulaceae) and its varieties. Brittonia. 53: 154-156.

Hoshizaki, B.J. & R.C. Moran. 2001. Fern Grower's Manual. Timber Press. 604 pp.

Moran, R.C. 2000. Trichomanes resinosum (Hymenophyllaceae), a new species from southern Venezuela and adjacent Guyana. Brittonia 52: 238-240.

Pope, K.O., M.E.D. Pohl, J.G. Jones, D.L. Lentz, C. von Nagy, F.J. Vega, and I.R. Quitmeyer. 2001. Origin and environmental setting of ancient agriculture in the Lowlands of Mesoamerica. Science 292: 1370-1373.

Prance, G. T. & S.A. Mori. 2001. Lecythidaceae. pp 1206-1210 in W.D. Stevens, C. Ulloa Ulloa, A. Pool & O.M. Montiel (eds.), Flora de Nicaragua. Missouri Botanical Garden Press.

Tuomisto, H. & R.C. Moran. 2001. Marattiaceae. Flora of Ecuador 66: 23-68.