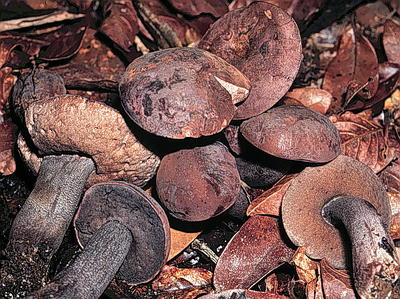 Sutorius eximius (Peck) Halling, Nuhn & Osmundson

Photographs by R. E. Halling © 1996

This bolete was once included in Leccinum because of the presence of scabers on the stipe. However, the color of the spore deposit (pinkish flesh colored) was considered by some to be more in line with Tylopilus. In addition to the scabrous stipe, the purplish brown, velvety pileus and the purplish gray colors of the stipe are diagnostic. Phylogenetic analyses indicate that the taxon is quite separate form either Leccinum or Tylopilus and merits a separate genus, Sutorius (see below). The basidiomata tend to be smaller than those collected in the NE USA from where it was described. The Costa Rican material has a smaller stature and shorter spores (10–13 µm) than the forms from the northeastern United States (11–20 µm). Collections have been found on Volcan Poas north of San José, and near San Gerardo de Dota in the Cordillera Talamanca. Associated ectotrophs are: Quercus seemannii and Q. copeyensis.