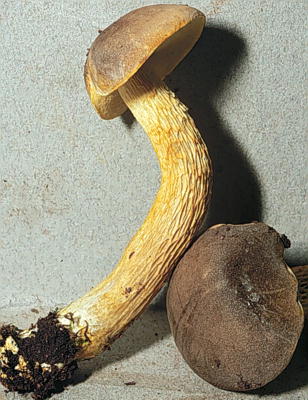 Retiboletus ornatipes (Peck) Manfr. Binder & Bresinsky

Photograph by R. E. Halling, © 1997
Referred by some to Pulveroboletus, this is the epithet for a taxon with yellow, coarsely reticulated stipe (to the base), bitter taste, yellow unchanging flesh and a pileus that is gray to colored like tarnished brass. The image at left is of material collected in the northern Talamancas. There has been some past confusion in eastern North America with Boletus retipes, but that latter taxon is supposed to be smaller, cespitose and with a yellow pulverulent pileus. An ADDITIONAL IMAGE of material from northeastern USA is larger with more yellow in the pileus. Retiboletus flavoniger appears closely related to R. retipes and R. ornatipes.