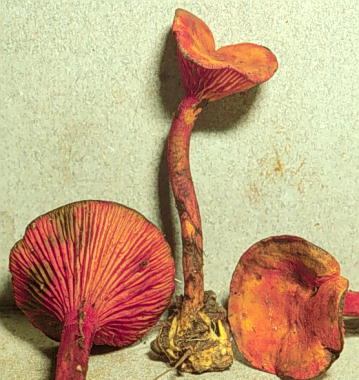 Phylloporus aurantiacus Halling & Mueller, Mycotaxon 73: 64. 1999.

Photograph by R. E. Halling, © 1997
This species seems closest to P. coccineus described by Corner (1970) from Singapore. The yellow basal mycelium as well as the overall colors are similar. The spores of both taxa are ovoid, an uncommon shape in the genus, and both lack clamp connections. However, Corner's fungus has yellow flesh that is cyanescent, and the spores are larger (7.5-9 × 6.5-7.5 µm). The Costa Rican entity has yellow flesh but doesn't change to blue green when exposed. There is a water soluble pigment that dissolves and turns microscopic mounts yellow. So far known only from one site in Cartago Province in the northern Talamancas.