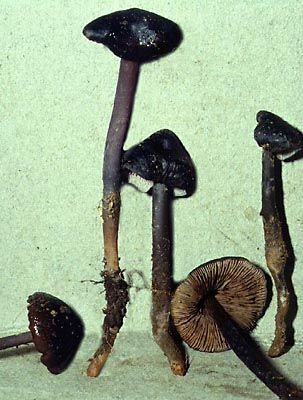 Phaeocollybia singularis Horak & Halling

Photograph by R. E. Halling ©, 2000
First recoginzed in Colombia (Mycologia 83: 470. 1991), we have found this Phaeocollybia just recently in the Las Tablas Protected Zone. It has a lubricous, glabrous, black pileus with some fine squamules and lavender tints toward the margin. The lamellae are lilac-lavender at first and the stipe apex is pale violaceous. Odor and taste is raphanoid. Microscopically, it lacks clamp connections, the spores are sublimoniform to amydaliform with a beaked mucro and verrucose ornamentation; the cheilocystidia are slender-fusoid with capitate apices.