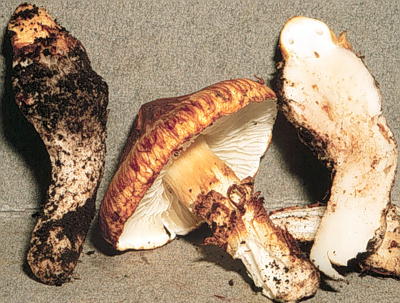 Squamanita umbonata (Sumstine) Bas

Photograph by R. E. Halling, © 1997

This is a first report for this genus from Central America. It was found in 1996 on Volcan Poas in the forest reserve of Bosque del Niño. The stipe is deeply rooting and contains acrophysalides in the trama. Familial placement has been in the Tricholomataceae, Agaricaceae, and Squamanitaceae. C. Bas monographed the genus in 1965 (Persoonia 3: 331-359) and has argued for a relationship with the genus Cystoderma, which he believes belongs in the Tricholomataceae.